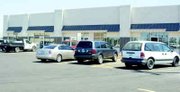 Come mid-July, Goodwill Industries will move its retail store from Yakima Valley Highway in Sunnyside to 2840 E. Lincoln Ave., and hopes are high that the move will prompt more local donations.
According to Associate Director of Goodwill Industries Columbia, Scott Shinsoto, the move will not only add 1,500 square feet of retail space, but a large area in the back to smooth the donation process.
Shinsoto said the back of the store will feature an air-bell, which will ring when individuals bring donations. Staff will then go assist the person donating with unloading and then provide a receipt.
According to Joy Murphy, director of retail, an in-store area will be reserved for furniture. At its current location, furniture for sale is out front of the store.
Shinsoto said he's hoping the East Lincoln Avenue location will bring more visibility to the store.
When considering the building as a future site, Shinsoto said, "We looked at it and were very encouraged by its location and long term opportunities for Goodwill to establish its own presence here in Sunnyside."
The store at the Yakima Valley Highway location has been in operation for 14 years, with store manager Chella Cardenas at the helm for all but one of those years.
"She and her crew work really hard to maintain Goodwill's mission and reputation," said Shinsoto. "We're glad for her to have this opportunity to manage this store."
In the past, the store has struggled with people dropping off items more suitable for the dump than the gently-used items Goodwill is known for. Cardenas said that particular problem is already starting to get better, but with the security features at the new store, it's expected to be even less of a problem.
Another change, too, is that there will be an increase in available parking at the new site.
Murphy said Goodwill's mission is to provide training services that help people achieve high levels of employment in the community.
A grand opening is slated for July 15 at 11 a.m.