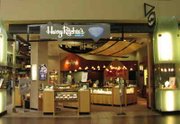 For three generations, Harry Ritchie's Jewelers has been one of the leaders in value throughout the northwest. Local shoppers will learn that first-hand, as a new Harry Ritchie's Jewelers store will open in Sunnyside's Mid-Valley Mall this summer.
The first store was founded by Harry and Jerry Ritchie in downtown Eugene, Ore. The goal was to bring beautiful jewelry at an affordable price, with credit available to even young romantics.
Today, 50 years later, under the leadership of Don Ritchie and his sister Susan, that vision remains the same. With the third generation now in place, and 30 stores throughout Oregon, Washington, California and Idaho, Harry Ritchie's is committed to delivering quality diamonds, credit options, and extraordinary service in every store.
The signature diamond collection, Love Story Diamonds, feature legendary brilliance and contemporary styling in engagement rings, wedding sets and men's rings. Harry Ritchie's also has Journey Diamond jewelry for anniversaries, other gemstones and pearls, fashion jewelry and Citizens watches. And, consistent advertising through catalogs and romantic television commercials drive customers to the store from first love to true love, wedding to anniversary, generation to generation.
Harry Ritchie's always offers credit options with the assurance that "you WILL be approved!" Financing is available to young, and even first-time credit buyers. And, many other unique services are available to make buying easy.