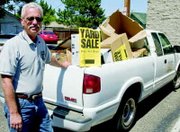 After encouraging the Sunnyside City Council to ease regulations on citizens posting yard sale signs, code enforcement officers have recently been up to their necks in illegal placards.
"I've been giving a lot of warnings," Sunnyside Code Enforcement Officer Jim Rivard said.
The days of warnings are quickly coming to an end.
Up until a couple of months ago Sunnyside residents wishing to hold a yard sale had get a permit for the sale and were limited to only two signs. These signs could be no more than two blocks from the sale.
The Sunnyside Building Department urged the Sunnyside City Council to relax those restrictions and new rules were put into place.
People hosting yard sales now can have as many signs as they want to advertise their event and can put the signs all over Sunnyside if that is their desire.
But, the signs must have certain information visible on them. The sign must contain the phone number of the person holding the sale, the date of the sale, the hours the yard sale will be open and the location of the yard sale.
A permit must still be obtained, which is free. Permits are available at the Sunnyside Police Department, Sunnyside City Hall and the Daily Sun News.
The permit must be posted at the place of the yard sale. As for the signs, they can not be placed on any public right-of-way, on any public utility pole, sign posts or traffic signs. They must be placed in people's yards, with their permission, of course.
"I didn't have one sign in compliance last weekend," Rivard said.
Rivard said the biggest complaints he gets are about signs posted on sidewalks or in people's yards without their permission. He said last weekend he confiscated signs that were posted in the gravel portion of roadways. One sign was stapled to a power pole and one was actually taped to a stop sign.
If the public doesn't come into compliance with the yard sale signs Rivard said he will be forced to start issuing citations, something he isn't looking forward to doing.
He said he would much rather focus on weeds, abandoned vehicles or illegal roofing projects than issue citations to people not in compliance with the city's sign ordinance.
People holding yard sales must also pick the signs up the day the yard sale ends to stay in compliance. Each citation is a misdemeanor and may be punishable by a fine up to $1,000. Each day the violation continues is considered a new violation and a separate offense.
"We prefer not to spend taxpayer money going to pick up yard sale signs," Sunnyside Building Official Mike Storms said. "If it continues to be a problem we will start issuing citations."