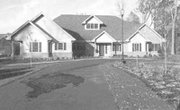 Hillcrest Manor officials recently eyed property to purchase, getting a step closer to a significant change from a traditional nursing home facility to a small home concept.
Hillcrest Manor Administrator Mary Arthur said she believes Eagle Healthcare, which owns the facility, has found a suitable 10 acres of land.
"I think we've found a location all of us can agree on," Arthur said, adding that it would still be inside city limits.
Arthur said that Eagle Healthcare President Jeff Marshall believes the facility needs to think in terms of what elder care needs will be by 2020. "We have to think way outside the box," she said.
What this means is that instead of a large facility such as Hillcrest is now, there would be several homes in a community like setting featuring six or seven homes. Eight to 12 residents would live in the home, which would feature private rooms and private bathrooms.
In the center, the bedroom doors would lead to a common area with a living room.
"It's a concept of a home of the future," she said.
The home would still feature a care partner who would provide a cross section of care. The care partner would help elders prepare meals, work with folding laundry and planning outings.
"It goes back to our philosophy that the elders drive the train," she said.
It also eliminates the appearance of a hospital-like setting, creating more of a small home setting.
It's all in the "envisioning" stages right now, Arthur said, so the vision is subject to more creative thinking.
In fact, the retirement center has not yet applied for a replacement certificate of need, which must be approved by the state.
She's hoping the change will take place in three to five years.
"I love the concept of private rooms and private baths," she said.
Residents would still enjoy being in a "community of spirits enjoying one another," as Arthur puts it, but it would be in more of a home-like atmosphere.
More like this story