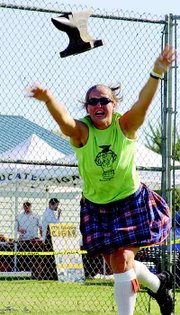 PROSSER - Whether you're a Scot or not, Prosser's Scottish Fest slated for this Saturday, June 21, at the Port of Benton Wine and Food Park has a little something for everyone.
Filled with unique Scottish, Celtic and local heritage, festgoers will enjoy the traditional heavy athletic and Highland dance competitions, pipe and drum bands, Celtic music, heritage and clan information, the Parade of Tartans, youth activities, vendors and a display from MacPherson's Farm called "From Sheep to Cloth."
Gates open at 8:30 a.m., when the athletic competition begins.
The welcoming ceremony begins at noon and will feature bagpipe music from the Desert Thistle Pipe Band of Tri-Cities and the River City Pipe Band of Portland. The famous anvil launch will follow.
Events will take place throughout the day, including a sanctioned dance competition, which will feature traditional and unique choreographed pieces. The dance competition begins at 9 a.m.
Heavy athletic events include the caber toss, sheaf toss, Braemer stone, hammer throw, weight throw for distance and weight throw for height. More than 30 nationally and internationally ranked athletes will vie for individual event and overall competition titles.
The Flying Anvil Pub featuring local microbrews will open at 10:30 a.m.
One unique feature to the event is the challenge anvil toss, open to all contestants who must heave an anvil for the greatest distance.
Bobby Dodd of Beverly, Wa. will be the Chieftain of the Day.
Admission cost is $7 for adults, $4 for senior citizens and children ages five to 12. Children under five will get in free.