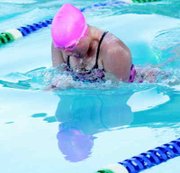 The Sunnyside Sharks weathered their first real challenge of the season last night, claiming a hard fought 462-359 victory over the Prosser Piranhas.
Tuesday night's victory improved Sunnyside's record to 3-0 in Mid-Valley Summer Swim League action. For the Sharks, it was the team's third straight meet swimming in their home pool.
Last night marked the season debut of the three Broersma sisters, who paced the Sharks with a combined 14 victories.
Older sister Kaitlyn Broersma won three of the four 50-meter sprints in the girls 18&U division. She also came away as the top swimmer in the more grueling 200-meter individual medley, besting the runner-up, Prosser's Ruttie Watkins, by 15.67 seconds. In the only race Broersma didn't win, the 50-meter butterfly, Watkins edged the Shark by just two-tenth's of a second. Broersma, too, played a part in helping the Sharks win both relay events in her age division.
Middle sister Marisa Broersma helped Sunnyside's 200-meter medley relay squad to a first place finish in the girls 14&U division. She also claimed a victory in the 50-meter breaststroke, and finished second in the 50-butterfly, backstroke and freestyle events, as well as in the 200-meter individual medley. Prosser's McKenzie Gant bested Broersma in those races.
Younger sister Brittany Broersma, a girls 12&U swimmer, came out on top in three of the four 50-meter sprints and in the 200-IM. She also swam legs on the winning medley and freestyle relay squads in her age bracket. In the only race she didn't win, Broersma finished a distant fifth in the 50-breast to teammate Madi Marquez.
Prosser's big hitters last night proved to be Deyton Cleveringa and Ty Hobbick in the boys 10&U and 12&U events, respectively. The duo swept all of their 50-meter sprints. Hobbick also won the boys 12&U 200-individual medley for the Piranhas.
Prosser also received a heady performance from boys 18&U swimmer Anthony Kim. He dealt previously unbeaten and highly regarded Joey Elerding of Sunnyside a pair of losses in the 50-meter backstroke and freestyle races. Elerding, though, remained undefeated on the season in the 50-butterfly, 50-breaststroke and 200-individual medley events.
One of Sunnyside's strongholds last night came in the girls 10&U races. The one-two punch of Lindsay Schilperoort and Kalie Bestebreur added up to victories in all seven events, as well as one runner-up finish.
Cristian Vargas also had a big night for the Sharks. Competing in the boys 14&U events, he swept to victory in all but one of the 50-meter sprints, and in the 200-IM. The one sprint Vargas didn't win, the 50-freestyle, he finished second to teammate Tim Stiteler.
Sunnyside 462 - Prosser 359
200-METER MEDLEY RELAY
Girls 10&U
1st-Sunnyside (L. Schilperoort, A. Davis, K. Bestebreur, K. Banks) 3:45.13
Boys 10&U
1st-Prosser (names unavailable) 4:01.73
Girls 12&U
1st-Sunnyside (M. Schademan, L. Anderson, B. Broersma, M. Marquez) 2:57.81
Boys 12&U
1st-Sunnyside (T. Tyhuis, J. Martin, N. Ramirez, A. Perez) 3:19.93
Girls 14&U
1st-Sunnyside (C. Rollinger, M. Broersma, A. Newhouse, E. Hutchins) 2:56.63
Boys 14&U
1st-Sunnyside (T. Stiteler, G. Rodriguez, C. Vargas, G. Stutesman) 2:43.66
Girls 18&U
1st-Sunnyside (M. Razey, K. Broersma, J. Mendoza, A. Martin) 2:42.84
Boys 18&U
1st-Prosser (names unavailable) 2:18.70
50-METER BUTTERFLY
Girls 8&U
1st-Alyssa Martin (S) 1:17.71, 2nd-Jolissa Mendoza (S) 1:21.31
Boys 8&U
1st-Carlo Rodriguez (S) 1:25.75, 2nd-Patrick Zecchino (S) 1:40.65
Girls 10&U
1st-Lindsay Schilperoort (S) 58.68, 2nd-Brittney Smith (P) 1:01.68, 3rd-Ashley Davis (S), 4th-Summer Hazzard (S)
Boys 10&U
1st-Deyton Cleveringa (P) 49.47, 2nd-Fox Rodriguez (S) 1:02.63, 3rd-Mathew Marquez (S), 4th-Bryce Murphy (S)
Girls 12&U
1st-Brittany Broersma (S) 39.37, 2nd-Madi Marquez (S) 45.87, 3rd-Kate Burnett (P), 4th-Gabby Villarreal (P)
Boys 12&U
1st-Ty Hobbick (P) 35.44, 2nd-Tad Tyhuis (S) 43.75, 3rd-William Burgett (P), 4th-Taylor Gant (P)
Girls 14&U
1st-McKenzie Gant (P) 33.62, 2nd-Marisa Broersma (S) 37.28, 3rd-Kendall Watts (P), 4th-Alexandra Newhouse (S)
Boys 14&U
1st-Cristian Vargas (S) 34.44, 2nd-Tim Stiteler (S) 38.43, 3rd-Grant Stutesman (S), 4th-Jeremy Clark (P)
Girls 16&U
1st-Hanna Rankin (P) 35.77, 2nd-Bre Beirele (P) 40.35, 3rd-Alissa Martin (S), 4th-Kristen Wedam (S)
Boys 16&U
1st-Branden Hobbick (P) 31.63, 2nd-Chris McKinney (P) 32.69, 3rd-Edgar Vargas (S), 4th-Matt Hatfield (S)
Girls 18&U
1st-Ruttie Watkins (P) 34.97, 2nd-Kaitlyn Broersma (S) 35.16, 3rd-Megan Tyler (S), 4th-Melissa Stamschror (S)
Boys 18&U
1st-Joey Elerding (S) 27.71, 2nd-Tyler Burgett (P) 28.63, 3rd-Anthony Kim (P), 4th-Kellen Crawford (P)
50-METER BREASTSTROKE
Girls 8&U
1st-Leah Blakney (P) 58.83, 2nd-Alyssa Martin (S) 1:17.13, 3rd-Janessa Frank (S), 4th-Ashlee Maldonado (S)
Boys 8&U
1st-Anthony Sanchez (S) 2:02.60
Girls 10&U
1st-Kalie Bestebreur (S) 57.53, 2nd-Ashley Davis (S) 59.68, 3rd-Summer Hazzard (S), 4th-Annie Brouwer (P)
Boys 10&U
1st-Deyton Cleveringa (P) 57.13, 2nd-Fox Rodriguez (S) 58.34, 3rd-Mathew Marquez (S), 4th-Tavian Valenzuela (S)
Girls 12&U
1st-Madi Marquez (S) 49.03, 2nd-Lyndsee Anderson (S) 49.63, 3rd-Kate Burnett (P), 4th-Gabby Villarreal (P)
Boys 12&U
1st-Ty Hobbick (P) 42.69, 2nd-William Burgett (P) 43.56, 3rd-Taylor Gant (P), 4th-Sam Kawakami (P)
Girls 14&U
1st-Marisa Broersma (S) 41.81, 2nd-McKenzie Gant (P) 42.67, 3rd-Amy Ingram (P), 4th-Alexandra Newhouse (S)
Boys 14&U
1st-Cristian Vargas (S) 43.81, 2nd-Tim Stiteler (S) 44.21, 3rd-Giovanni Rodriguez (S), 4th-Grant Stutesman (S)
Girls 16&U
1st-Alissa Martin (S) 48.71, 2nd-Hanna Rankin (P) 51.44, 3rd-Kristen Wedam (S), 4th-Danielle Newhouse (S)
Boys 16&U
1st-Chris McKinney (P) 39.06, 2nd-Branden Hobbick (P) 40.10, 3rd-Edgar Vargas (S), 4th-Charles McClammer (P)
Girls 18&U
1st-Kaitlyn Broersma (S) 39.19, 2nd-Ruttie Watkins (P) 45.29, 3rd-Megan Tyler (S), 4th-Melissa Stamschror (S)
Boys 18&U
1st-Joey Elerding (S) 36.47, 2nd-Tyler Burgett (P) 36.63, 3rd-Anthony Kim (P), 4th-Kellen Crawford (P)
50-METER BACKSTROKE
Girls 8&U
1st-Leah Blakney (P) 1:07.04, 2nd-Alyssa Martin (S) 1:12.56, 3rd-Jolissa Mendoza (S), 4th-Gentri Gray (S)
Boys 8&U
1st-Skylar Gray (S) 1:11.69, 2nd-Carlo Rodriguez (S) 1:17.06, 3rd-Patrick Zecchino (S), 4th-Anthony Sanchez (S)
Girls 10&U
1st-Lindsay Schilperoort (S) 55.22, 2nd-Elizabeth Thornbrugh (P) 1:00.30, 3rd-Annie Brouwer (P), 4th-Summer Hazzard (S)
Boys 10&U
1st-Deyton Cleveringa (P) 52.31, 2nd-Scott Blakney (P) 52.82, 3rd-Riley Lusk (P), 4th-Bryce Murphy (S)
Girls 12&U
1st-Brittany Broersma (S) 41.13, 2nd-Madi Marquez (S) 45.75, 3rd-Gabby Villarreal (P), 4th-Camille Kawakami (P)
Boys 12&U
1st-Ty Hobbick (P) 40.37, 2nd-Tad Tyhuis (S) 44.72, 3rd-William Burgett (P), 4th-Sam Kawakami (P)
Girls 14&U
1st-McKenzie Gant (P) 35.48, 2nd-Marisa Broersma (S) 40.75, 3rd-Kendall Watts (P), 4th-Breanna Cherry (P)
Boys 14&U
1st-Cristian Vargas (S) 40.06, 2nd-Tim Stiteler (S) 40.96, 3rd-Grant Stutesman (S), 4th-Jeremy Clark (P)
Girls 16&U
1st-Hanna Rankin (P) 39.54, 2nd-Alissa Martin (S) 42.06, 3rd-Kristen Wedam (S), 4th-Sara Contreras (P)
Boys 16&U
1st-Branden Hobbick (P) 36.43, 2nd-Chris McKinney (P) 36.90, 3rd-Spencer Jaquish (S), 4th-Edgar Vargas (S)
Girls 18&U
1st-Kaitlyn Broersma (S) 38.75, 2nd-Ruttie Watkins (P) 39.03, 3rd-Megan Tyler (S), 4th-Janelle Mendoza (S)
Boys 18&U
1st-Anthony Kim (P) 32.85, 2nd-Joey Elerding (S) 33.50, 3rd-Tyler Burgett (P), 4th-Kellen Crawford (P)
50-METER FREESTYLE
Girls 8&U
1st-Leah Blakney (P) 49.15, 2nd-Jolissa Mendoza (S) 58.34, 3rd-Alyssa Martin (S), 4th-Janessa Frank (S)
Boys 8&U
1st-Carlo Rodriguez (S) 57.13, 2nd-Patrick Zecchino (S) 1:08.10, 3rd-Skylar Gray (S), 4th-Parker Van de Graaf (S)
Girls 10&U
1st-Kalie Bestebreur (S) 46.00, 2nd-Lindsay Schilperoort (S) 48.31, 3rd-Annie Brouwer (P), 4th-Ashley Davis (S)
Boys 10&U
1st-Deyton Cleveringa (P) 40.56, 2nd-Scott Blakney (P) 42.22, 3rd-Camden Baker (P), 4th-Fox Rodriguez (S)
Girls 12&U
1st-Brittany Broersma (S) 34.30, 2nd-Madi Marquez (S) 37.21, 3rd-Lyndsee Anderson (S), Gabby Villarreal (P)
Boys 12&U
1st-Ty Hobbick (P) 33.61, 2nd-William Burgett (P) 35.65, 3rd-Tad Tyhuis (S), 4th-Eric Blakney (P)
Girls 14&U
1st-McKenzie Gant (P) 31.70, 2nd-Marisa Broersma (S) 31.85, 3rd-Kendall Watts (P), 4th-Hailey Rankin (P)
Boys 14&U
1st-Tim Stiteler (S) 33.09, 2nd-Cristian Vargas (S) 35.21, 3rd-Grant Stutesman (S), 4th-Giovanni Rodriguez (S)
Girls 16&U
1st-Hanna Rankin (P) 33.38, 2nd-Alissa Martin (S) 34.33, 3rd-Kristen Wedam (S), 4th-Sara Contreras (P)
Boys 16&U
1st-Chris McKinney (P) 28.37, 2nd-Branden Hobbick (P) 28.90, 3rd-Matt Hatfield (S), 4th-Charles McClammer (P)
Girls 18&U
1st-Kaitlyn Broersma (S) 32.28, 2nd-Ruttie Watkins (P) 33.60, 3rd-Megan Tyler (S), 4th-Melissa Stamschror (S)
Boys 18&U
1st-Anthony Kim (P) 26.81, 2nd-Joey Elerding (S) 27.03, 3rd-Kellen Crawford (P), 4th-Jakob Anderson (S)
200-METER FREESTYLE RELAY
Girls 10&U
1st-Sunnyside (K. Banks, K. Bestebreur, L. Schilperoort, A. Harrington) 3:23.53
Boys 10&U
1st-Prosser (names unavailable) 3:31.54
Girls 12&U
1st-Sunnyside (B. Broersma, M. Marquez, L. Anderson, J. Rodriguez) 2:44.93
Boys 12&U
1st-Prosser (names unavailable) 2:40.65
Girls 14&U
1st-Prosser (names unavailable) 2:29.87
Boys 14&U
1st-Sunnyside (T. Stiteler, C. Vargas, G. Rodriguez, G. Stutesman) 2:28.81
Girls 18&U
1st-Sunnyside (K. Broersma, A. Martin, M. Razey, J. Mendoza) 2:29.65
Boys 18&U
1st-Prosser (names unavailable) 2:13.65
200-METER INDIVIDUAL MEDLEY
Girls 10&U
1st-Lindsay Schilperoort (S) 4:21.71, 2nd-Summer Hazzard (S) 4:50.68, 3rd-Ashley Davis (S), 4th-Brittney Smith (P)
Boys 10&U
1st-Scott Blakney (P) 4:06.58, 2nd-Fox Rodriguez (S) 4:34.96, 3rd-Bryce Murphy (S), 4th-Camden Baker (P)
Girls 12&U
1st-Brittany Broersma (S) 3:23.69, 2nd-Madi Marquez (S) 3:48.87, 3rd-Gabby Villarreal (P), 4th-Karli Lusk (P)
Boys 12&U
1st-Ty Hobbick (P) 3:12.07, 2nd-Tad Tyhuis (S) 3:33.85, 3rd-William Burgett (P), 4th-Sam Kawakami (P)
Girls 14&U
1st-McKenzie Gant (P) 2:49.43, 2nd-Marisa Broersma (S) 3:16.10, 3rd-Alexandra Newhouse (S), 4th-Karley Crawford (P)
Boys 14&U
1st-Cristian Vargas (S) 3:09.18, 2nd-Tim Stiteler (S) 3:18.28, 3rd-Giovanni Rodriguez (S), 4th-Grant Stutesman (S)
Girls 16&U
1st-Hanna Rankin (P) 3:15.50, 2nd-Alissa Martin (S) 3:26.46, 3rd-Kristen Wedam (S), 4th-Tara Esparza (P)
Boys 16&U
1st-Branden Hobbick (P) 2:56.58, 2nd-Chris McKinney (P) 3:07.07, 3rd-Charles McClammer (P), 4th-Spencer Jaquish (S)
Girls 18&U
1st-Kaitlyn Broersma (S) 3:07.62, 2nd-Ruttie Watkins (P) 3:23.29, 3rd-Megan Tyler (S), 4th-Melissa Stamschror (S)
Boys 18&U
1st-Joey Elerding (S) 2:31.18, 2nd-Anthony Kim (P) 2:54.34, 3rd-Tyler Burgett (P), 4th-Kellen Crawford (P)