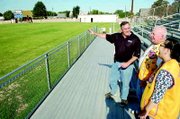 Lloyd Marrs, 72, of Selah died Wednesday, June 18, 2008, at Yakima Regional Hospital.
He was born Nov. 23, 1935 in Oregon City, Ore.
He built planes for Boeing for 15 years, starting in 1956. He then was a general construction contractor and finally worked on his farm and orchard until he retired in 2000.
He is survived by his wife, Nancy (Scrimsher) Marrs of Selah; three sons, Rick Marrs of Yakima, Greg Marrs of Selah and David Marrs of Granger; sister, Shirley Shull of Lyons, Ore.; brother, Roy Marrs of Goldendale; seven granddaughters; one great-granddaughter; and numerous nieces and nephews.
A memorial service will be held Wednesday, June 25, 2008, at 11 a.m. at Keith and Keith Terrace Heights Chapel.
Keith and Keith Funeral Home in Yakima is in charge of arrangements.