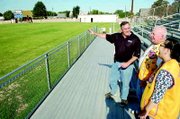 The Sunnyside fireworks display on Independence Day will, after all, take place at the high school football stadium.
Crowd location was an issue of concern last week because school district officials plan to overseed the football field. The affected areas, however, will be roped off.
"They've bent over backwards to help us out," said Lions Club member Julia Hart.
The event is made possible due to a partnership between the Sunnyside Lions Club, the Sunnyside School District and the city of Sunnyside.
"The investment made to bring these fireworks to Sunnyside is significant, and the partners providing this service believe it is an important part of our Independence Day celebration," said Hart, adding that funds are limited.
For that reason, donation jars have been placed around the community at banks, grocery stores and other businesses.
Hart said she's currently discussing the idea of having Sunnyside's Promise bring an inflatable movie screen and show to watch prior to the fireworks display.
Food vendors are currently needed for the event. She said that the cost to rent a 10' x 10' space is $25.
So far, sno-cones, popcorn, soda and water vendors will be on-site that evening.
She's also hoping a group will step forward to provide musical entertainment, although a stage will not be erected on the field this year. That shouldn't stop a group from performing, though, she said.
"I'm really excited because we're going to have Friday night lights at the football field in July," she said, noting that Independence Day falls on a Friday this year.
She's encouraging community members to support the event by dropping coins and dollars into donation jars.
"Take pride in our country's celebration of independence," urged Hart. "Show your true colors by helping to support your hometown's Fourth of July fireworks display."