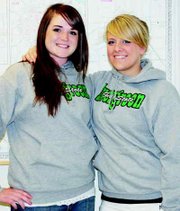 ELLENSBURG - An annual event sponsored by the American Legion, Evergreen Girls State is an opportunity for high school girls to learn about the election process, inter-workings of government and to develop new bonds of friendship.
That is according to Sunnyside High School's Molly Dolan and Megan Tyler, who recently attended the weeklong event at Central Washington University in Ellensburg.
The pair said they first learned about the opportunity to attend Girls State at an informational meeting.
"Cassie Herndon and Julie Wedam provided us with information on their experience," said Dolan.
She said she and Tyler were among several Sunnyside girls who went through an interview process with Gail Boose and Dorothy Aiken.
"We were selected as delegates and Sarah Kilian and Jessica Gonzalez were selected as alternates for Girls State," said Tyler.
Dolan said she and Tyler were sponsored by the American Legion Auxiliary of Wapato. "The provided us with a great learning opportunity," she said.
Tyler agreed, stating she was provided the opportunity to explore the process in which legislative bills are created and passed.
"I was a member of the Gold House," Tyler noted. She said there are several bodies of government represented at Girls State. The bodies of government include city representatives, county representatives, state representatives, U.S. representatives, a governor and a "Gold House" and "Gold Senate."
"I was a county commissioner," explained Dolan.
Each of the young ladies were selected to represent cities, also. Dolan said she was a member of "Durham," which was a name given in honor of the first woman to serve on the Washington State Supreme Court. Tyler was a member of the city "Rice," named for Condoleezza Rice.
In addition to representing two separate cities, Dolan and Tyler were designated a party affiliation, the Nationalist party or the Federalist party.
"Each party had to develop a platform...both platforms were very similar, though," said Dolan.
Tyler said she took part in writing a legislative bill. Her bill required schools to verify parking permits, driving status and proof of insurance.
"It passed the Gold House, but didn't make it on the agenda of the Senate," she said, stating she found that can be common.
Tyler stated the idea behind her bill stems from her desire to keep students safe in school parking lots.
Dolan said she was involved in writing a bill that prevents use of animals in testing for cosmetics. However, she was not certain how far the bill progressed in the legislative process.
Most surprising to each of the girls was the degree in which other young women their age are politically aware.
"There were some heated debates. The most heated debate I witnessed was over the use of cell phones in school," said Tyler.
"But, they were good debates and some people wrote bills that were on the lighter, funny side," said Dolan.
They both said there were several young women who displayed passion about politics and government, whereas neither of them knew as much as some of their peers.
"I feel I learned more than I expected to learn, though. I did know something about some of the issues," said Dolan, stating she was further educated on the issues she was already familiar with.
They both said they developed new friendships through the experience and a greater degree of patriotism was also garnered from the opportunity to attend Girls State.
"They really promoted pride in the traditions of our country, such as flag etiquette," said Tyler.
Dolan mirrored Tyler's comment, stating they both learned how to properly fold the U.S. flag. The meaning of each fold was explained to them as they learned the technique.
"I had always been curious about the flag folding," said Dolan.
The girls said they feel the experience of attending Girls State will stay with them, and has given them a greater appreciation of the process of government.
"We will be more aware of the issues and candidates when we are old enough to vote," said Dolan, who will be 18 in 2009. Tyler will be old enough to vote during general elections this coming November.
The duo said they are both grateful to those who made the experience possible. "I feel I have gained so much," said Tyler.
bsp;