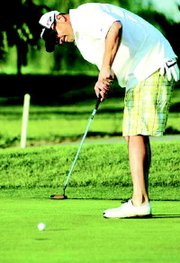 ATLANTA, GA. - Jeff Bender, head club pro at Sunnyside's Black Rock Creek Golf Course, is on the prowl at this week's PGA Professional National Championship.
Competing amongst a field of 310 club professionals from across the country, Bender opened the national tourney yesterday by shooting an even-par 72 at the Great Waters course at Reynold's Plantation, just outside Atlanta, Ga. Bender's even-par round on Thursday left him tied with 31 other golfers in 67th place.
The first day leader, Scott Hebert of Traverse City, Mich., fired a 5-under-par 67 at Great Waters.
The low round Thursday at Reynold's Landing, the other Reynold's Plantation course being used for the four-day national championship, was turned in by Alan Morin. He shot a 4-under-par 69.
Bender earned a spot in the national tourney at a qualifying event staged at Cle Elum's Suncadia Resort in August 2007.
In carding an even-par 72 yesterday, Bender's only hiccup came on No. 4 at Great Waters. After notching a birdie on the par-4 third hole, he double-bogeyed the 186-yard, par-3 fourth. The Sunnyside golf professional salvaged his front nine by parring out with a 1-over 37.
Bender opened the back nine with a birdie on the par-4, 409-yard 10th hole. He parred out from there to shoot even-par 72.
Early this morning (Friday), Bender opened play at Reynold's Landing and was 1-over-par through the first six holes.