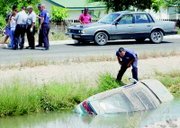 One local woman and her family is $50,000 wealthier thanks to a scratch-off ticket provided by Grandview's Mid Valley Chrysler and Sunnyside's Speck Motors.
The ticket was one of 25,000 mailed to residents prior to the dealerships' off-site sale held at Sunnyside's Outpost the weekend of May 30.
Sunnyside resident and mother of three, Elvira Morales, arrived at the sale Sunday, June 1, with her family and ticket in hand. She soon discovered she held the $50,000 grand prize winning ticket and was met with fanfare and excitement.
Morales is a lifelong Sunnyside resident and has been married to her husband, Manuel, for 13 years.
She said she had never entered into any contest before the ticket had arrived in her mailbox.
Morales and her husband are both farm workers, who are employed at Rasmussen Farms.
In the off-season, she works at Prosser's Mercer Ranches, and her husband is employed by Hogue Cellars.
The couple has dreamed of owning their own home. Now, they believe that dream is possible, according to Estelle West of OutWest Promotions.
She said, "It just couldn't have happened to better people."
West said Mid Valley Chrysler will be hosting an event to congratulate the couple and present them with the official check for the winning ticket.
The event will take place tomorrow (Saturday) from 10 a.m. to 2 p.m. with a live remote from four different radio stations.
Refreshments will be provided, and Grandview Mayor Norm Childress, Yakima Valley Fair and Rodeo Queen Danielle York, former Yakima County Commissioner and current Grandview City Councilman Jesse Palacios, City Manager Scott Staples and several other officials will be at the event.