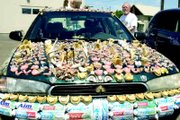 Upon first glance at Rex Rosenberg's dental-themed art car, it's easy to think, "Ewww! Gross!" But Rosenberg's car is actually an award winning piece of art.
Rosenberg stopped in Sunnyside yesterday during a trek from Kansas to Seattle for an art car show.
The car is covered in dentures, toothpaste tubes, toothbrushes, partials, decoupaged pages of dental books and....well, anything having to do with all things dental.
Rosenberg recently retired from his career as a licensed clinical psychotherapist.
Working on the car, he said, was therapy for the therapist.
And, he added, in the art car world, it had never been done before.
Finding the items, though, wasn't that easy.
"I started looking for dentures on eBay, but that was too expensive," Rosenberg said.
He hit pay-dirt, however, when an eBay seller posted an ad for a 75-pound box filled with recycled dentures and partials.
The website actually proved to be the source of most of the pieces for his car, with the exception of used toothpaste tubes and dental impressions.
Upon close inspection, the front of the car features "teeth-stripes" (as opposed to pin-stripes), made from individual tooth casts used in denture making.
The car's interior features signatures from people who've donated dental items, as well as from two curious Daily Sun News reporters.
All in all, Rosenberg said it actually only took about a month of nights and weekends to put the artwork together.
Rosenberg recently traveled to a art car show in Houston, where his dental themed car took third place in the art category.
Interestingly enough, the car sports a sticker that says, "I'm not weird, I'm gifted."
Rosenberg's already dreaming up his next masterpiece.
"I need all the discarded watches and clocks I can get," he said.
In the meantime, he needs just a few more empty tubes of toothpaste. "I still have some ugly space up there on the front bumper that's empty."
Lynda Jo Gross/Daily Sun News
Rex Rosenberg's dental-themed art car turned quite a few heads in Sunnyside yesterday (Thursday). Rosenberg hails from Kansas and was on his way to an art car show in Seattle.