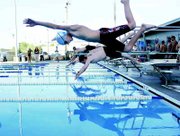 The Wapato Whales had the plug pulled on their pool last night, and instead of hosting a home meet against Sunnyside as originally planned, were forced to travel to the confines of the Sharks.
The last-minute switch of venues resulted in only a small contingent of the Wapato swim team trekking to Sunnyside. That proved to work in the Sharks' favor, as they throttled the visitors, 546-252.
Thursday evening's victory improved Sunnyside's Mid-Valley Summer Swim League record to 4-0. The Sharks have a bye next Tuesday, not returning to action until Thursday, June 26, at home against the Naches Barracudas.
Wapato 252
Sunnyside 546
200-METER MEDLEY RELAY
Girls 10&U
1st-Sunnyside (K. Banks, A. Davis, K. Bestebreur, S. Hazzard) 4:08.84
Boys 10&U
1st-Sunnyside (B. Murphy, J. Mendoza, M. Marquez, A. Hicks) 4:37.18
Girls 12&U
1st-Sunnyside (J. Rodriguez, K. Hazzard, A. Spidle, B. Broersma) 3:36.28
Boys 12&U
1st-Sunnyside (N. Ramirez, J. Martin, T. Tyhuis, A. Perez) 3:18.68
Girls 14&U
1st-Sunnyside (E. Hutchins, M. Broersma, A. Newhouse, C. Rollinger) 2:53.19
Boys 14&U
1st-Wapato (names unavailable) 2:38.31
Girls 18&U
1st-Sunnyside (K. Wedam, M. Stamschror, K. Broersma, J. Mendoza) 2:48.87
Boys 18&U
1st-Wapato (E. Reyes, E. Wilson, E. Ihnen, J. Groves) 2:28.72
50-METER BUTTERFLY
Girls 8&U
1st-Emily Banks (S) 1:06.07, 2nd-Jolissa Mendoza (S) 1:17.08, 3rd-Alyssa Martin (S) 1:21.60, 4th-Gentri Gray (S) 1:40.09
Boys 8&U
1st-Patrick Zecchino (S) 1:31.75
Girls 10&U
1st-Kalie Bestebreur (S) 55.87, 2nd-Katelyn Banks (S) 1:00.46, 3rd-Ashley Davis (S) 1:12.18, 4th-Summer Hazzard (S) 1:16.87
Boys 10&U
1st-Mathew Marquez (S) 1:15.81, 2nd-Aaron Hicks (S) 1:21.34, 3rd-Jacob Mendoza (S) 1:36.34, 4th-Zachary Spidle (S) 1:44.18
Girls 12&U
1st-Brittany Broersma (S) 40.72, 2nd-Katie Klingele (W) 46.12, 3rd-Mikaela Cleveringa (W) 47.28, 4th-Jordan Rodriguez (S) 58.40
Boys 12&U
1st-Tad Tyhuis (S) 44.32, 2nd-Nickolas Ramirez (S) 53.12, 3rd-Alex Perez (S) 55.65, 4th-Cameron Schlenker (S) 55.75
Girls 14&U
1st-Marisa Broersma (S) 36.84, 2nd-Beth Klingele (W) 39.43, 3rd-Alexandra Newhouse (S) 42.37, 4th-Emily Hutchins (S) 47.84
Boys 14&U
1st-(tie) Jared Klingele (W) & Cristian Vargas (S) 37.03, 3rd-Jeremy Klarich (W) 37.22, 4th-Grant Stutesman (S) 41.02
Girls 16&U
1st-Ariel Valdez (W) 41.05, 2nd-Kristen Wedam (S) 42.78, 3rd-Anita Tadlock (S) 56.25
Boys 16&U
1st-Eric Wilson (W) 33.40, 2nd-AdamOrozco (W) 36.18, 3rd-Eric Ihnen (W) 37.50, 4th-Edgar Vargas (S) 37.94
Girls 18&U
1st-Kaitlyn Broersma (S) 36.87, 2nd-Melissa Stamschror (S) 44.86, 3rd-Janelle Mendoza (S) 45.12
Boys 18&U
1st-Joey Elerding (S) 27.07, 2nd-Eliazer Reyes (W) 34.09, 3rd-Eddie Flores (W) 35.18, 4th-Jakob Anderson (S) 39.81
50-METER BREASTSTROKE
Girls 8&U
1st-Emily Banks (S) 1:11.86, 2nd-Alyssa Martin (S) 1:13.66, 3rd-Janessa Frank (S) 1:31.78
Boys 8&U
1st-Skylar Gray (S) 1:16.93, 2nd-Anthony Sanchez (S) 2:10.87
Girls 10&U
1st-Katelyn Banks (S) 57.56, 2nd-Kalie Bestebreur (S) 58.78, 3rd-Ashley Davis (S) 59.34, 4th-Summer Hazzard (S) 1:05.99
Boys 10&U
1st-Jonathon Imperial (W) 50.63, 2nd-Mathew Marquez (S) 1:01.34, 3rd-Tavian Valenzuela (S) 1:12.81, 4th-Jacob Mendoza (S) 1:14.72
Girls 12&U
1st-Brittany Broersma (S) 44.63, 2nd-Katie Klingele (W) 45.35, 3rd-Brook John (W) 53.68, 4th-Katelyn Hazzard (S) 57.18
Boys 12&U
1st-Tad Tyhuis (S) 53.44, 2nd-Joel Martin (S) 53.91, 3rd-Alex Perez (S) 1:03.46, 4th-Cameron Schlenker (S) 1:06.90
Girls 14&U
1st-Marisa Broersma (S) 41.56, 2nd-Beth Klingele (W) 46.72, 3rd-Bethany Imperial (W) 47.06, 4th-Alexandra Newhouse (S) 48.15
Boys 14&U
1st-Cristian Vargas (S) 43.88, 2nd-Jeremy Klarich (W) 44.03, 3rd-Giovanni Rodriguez (S) 44.90, 4th-Grant Stutesman (S) 47.28
Girls 16&U
1st-Alissa Martin (S) 47.90, 2nd-Ariel Valdez (W) 48.93, 3rd-Marisol Garcia (W) 51.30, 4th-Kristen Wedam (S) 52.37
Boys 16&U
1st-Eric Ihnen (W) 40.25, 2nd-AdamOrozco (W) 44.82, 3rd-Eric Wilson (W) 45.31, 4th-Edgar Vargas (S) 45.36
Girls 18&U
1st-Kaitlyn Broersma (S) 38.29, 2nd-Janelle Mendoza (S) 50.93, 3rd-Melissa Stamschror (S) 54.76
Boys 18&U
1st-Joey Elerding (S) 35.25, 2nd-Eddie Flores (W) 46.09, 3rd-Eliazer Reyes (W) 47.90, 4th-Jakob Anderson (S) 49.09
50-METER BACKSTROKE
Girls 8&U
1st-Emily Banks (S) 1:02.92, 2nd-Jolissa Mendoza (S) 1:12.09, 3rd-Gentri Gray (S) 1:12.59, 4th-Alyssa Martin (S) 1:14.03
Boys 8&U
1st-Skylar Gray (S) 1:09.46, 2nd-Patrick Zecchino (S) 1:12.03, 3rd-Parker Van de Graaf (S) 1:48.03, 4th-Anthony Sanchez (S) 1:55.20
Girls 10&U
1st-Katelyn Banks (S) 53.31, 2nd-Summer Hazzard (S) 1:04.72, 3rd-Autumn Blount (S) 1:05.19, 4th-Kalie Bestebreur (S) 1:05.59
Boys 10&U
1st-Jonathon Imperial (W) 49.43, 2nd-Bryce Murphy (S) 58.87, 3rd-Vincent Gonzalez (S) 1:06.73, 4th-Mathew Marquez (S) 1:14.09
Girls 12&U
1st-Brittany Broersma (S) 41.35, 2nd-Katie Klingele (W) 48.25, 3rd-Brook John (W) 48.81, 4th-Eileen Redhorn (W) 57.00
Boys 12&U
1st-Tad Tyhuis (S) 44.38, 2nd-Nickolas Ramirez (S) 53.19, 3rd-Christian Murphy (S) 57.15, 4th-Cody Stiltner (S) 57.85
Girls 14&U
1st-Marisa Broersma (S) 40.53, 2nd-Alexandra Newhouse (S) 41.50, 3rd-Bethany Imperial (W) 45.60, 4th-Beth Klingele(W) 49.06
Boys 14&U
1st-Cristian Vargas (S) 38.40, 2nd-Kanine John (W) 44.43, 3rd-Jeremy Klarich (W) 45.81, 4th-Jared Klingele (W) 47.88
Girls 16&U
1st-Ariel Valdez (W) 40.72, 2nd-Kristen Wedam (S) 41.31, 3rd-Alissa Martin (S) 42.29, 4th-Marisol Garcia (W) 51.53
Boys 16&U
1st-Eric Wilson (W) 38.15, 2nd-Joshua Groves (W) 43.03, 3rd-(tie) Eric Ihnen (W) & Edgar Vargas (S) 43.65
Girls 18&U
1st-Kaitlyn Broersma (S) 38.93, 2nd-Janelle Mendoza (S) 48.90, 3rd-Melissa Stamschror (S) 49.78
Boys 18&U
1st-Joey Elerding (S) 32.75, 2nd-Eliazer Reyes (W) 38.40, 3rd-Eddie Flores (W) 41.90, 4th-Sam Bardell (S) 45.00
50-METER FREESTYLE
Girls 8&U
1st-Jolissa Mendoza (S) 56.47, 2nd-Emily Banks (S) 57.19, 3rd-Allison Davis (S0 1:07.40, 4th-Alyssa Martin (S) 1:08.66
Boys 8&U
1st-Skylar Gray (S0 1:08.66, 2nd-Patrick Zecchino (S) 1:11.75, 3rd-Parker Van de Graaf (S) 1:32.62, 4th-Patrick Bushman (W) 1:55.30
Girls 10&U
1st-Katelyn Banks (S) 43.05, 2nd-Kalie Bestebreur (S) 47.07, 3rd-Summer Hazzard (S) 50.68, 4th-Ashley Davis (S) 50.96
Boys 10&U
1st-Jonathon Imperial (W) 41.91, 2nd-Vincent Gonzalez (S) 48.07, 3rd-Tavian Valenzuela (S) 57.66, 4th-Mathew Marquez (S) 57.81
Girls 12&U
1st-Brittany Broersma (S) 35.03, 2nd-Katie Klingele (W) 37.72, 3rd-Mikaela Cleveringa (W) 37.88, 4th-Brook John (W) 42.57
Boys 12&U
1st-Tad Tyhuis (S) 35.03,2nd-Cody Stiltner (S) 42.12, 3rd-Alex Perez (S) 42.90, 4th-Joel Martin (S) 45.25
Girls 14&U
1st-Marisa Broersma (S) 32.50, 2nd-Beth Klingele (W) 33.75, 3rd-Bethany Imperial (W) 36.84, 4th-Alexandra Newhouse (S) 38.09
Boys 14&U
1st-Jared Klingele (W) 31.13, 2nd-Jeremy Klarich (W) 33.71, 3rd-Cristian Vargas (S) 34.76, 4th-Grant Stutesman (S) 37.63
Girls 16&U
1st-Ariel Valdez (W) 34.21, 2nd-Alissa Martin (S) 34.29, 3rd-Kristen Wedam (S) 37.87, 4th-Danielle Newhouse (S) 42.60
Boys 16&U
1st-Eric Ihnen (W) 31.34, 2nd-AdamOrozco (W) 31.60, 3rd-Eric Wilson (W) 32.53, 4th-Edgar Vargas (S) 34.08
Girls 18&U
1st-Kaitlyn Broersma (S) 33.53, 2nd-Melissa Stamschror (S) 41.09
Boys 18&U
1st-Joey Elerding (S) 26.60, 2nd-Eliazer Reyes (W) 29.78, 3rd-Eddie Flores (W) 33.21, 4th-Sam Bardell (S) 36.47
200-METER FREESTYLE RELAY
Boys 10&U
1st-Sunnyside (M. Marquez, B. Murphy, T. Valenzuela, A. Hicks) 4:05.31
Girls 12&U
1st-Wapato (M. Cleveringa, M. Greenwood, B. John, E. Redhorn) 2:49.68
Boys 12&U
1st-Sunnyside (J. Martin, C. Stiltner, A. Perez, T. Tyhuis) 2:53.91
Girls 14&U
1st-Sunnyside (A. Newhouse, E. Hutchins, C. Rollinger, M. Broersma) 2:34.38
Boys 14&U
1st-Sunnyside (G. Rodriguez, C. Vargas, G. Stutesman) 2:43.88
Girls 18&U
1st-Sunnyside (A. Martin, J. Mendoza, K. Wedam, K. Broersma) 2:30.81
Boys 18&U
1st-Wapato (E. Wilson, E. Flores, E. Reyes, E. Ihnen) 2:13.00
200-METER INDIVIDUAL MEDLEY
Girls 10&U
1st-Katelyn Banks (S) 4:15.27, 2nd-Summer Hazzard (S) 4:50.25, 3rd-Ashley Davis (S) 5:04.20
Boys 10&U
1st-Jonathon Imperial (W) 4:15.19, 2nd-Mathew Marquez (S) 5:15.00, 3rd-Bryce Murphy (S) 5:29.81, 4th-Jacob Mendoza (S) 6:00.19
Girls 12&U
1st-Brittany Broersma (S) 3:20.06, 2nd-Katie Klingele (W) 3:53.02, 3rd-Jordan Rodriguez (S) 4:43.65, 4th-Eileen Redhorn (W) 4:52.93
Boys 12&U
1st-Tad Tyhuis (S) 3:24.84, 2nd-Christian Murphy (S) 4:22.00, 3rd-Joel Martin (S) 4:31.97
Girls 14&U
1st-Marisa Broersma (S) 3:10.53, 2nd-Alexandra Newhouse (S) 3:33.43, 3rd-Beth Klingele (W) 3:44.63, 4th-Emily Hutchins (S) 3:48.57
Boys 14&U
1st-Jeremy Klarich (W) 3:14.09, 2nd-Jared Klingele (W) 3:31.53, 3rd-Giovanni Rodriguez (S) 3:48.93
Girls 16&U
1st-Ariel Valdez (W) 3:25.41, 2nd-Alissa Martin (S) 3:26.00
Boys 16&U
1st-Eric Wilson (W) 2:58.81, 2nd-Eric Ihnen (W) 3:21.84, 3rd-Adam Orozco (W) 3:29.62, 4th-Joshua Groves (W) 3:41.12
Girls 18&U
1st-Kaitlyn Broersma (S) 3:09.32, 2nd-Melissa Stamschror (S) 3:51.78
Boys 18&U
1st-Joey Elerding (S) 2:25.59, 2nd-Eddie Flores (W) 3:20.68