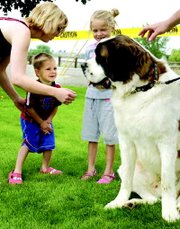 Several events were staged this past Saturday at the Dairy Fair in Sunnyside.
The annual Dairy Fair Day drew families from all over the valley as they participated in events such as ice cream and watermelon eating contests, gunny sack races and much more.
The YakiVegas PT Cruiser Club was on hand, as was a petting zoo filled with animals such as llamas, lambs, miniature horses, a calf, chickens and one goose.
Families could also take self-guided tours of the facility.