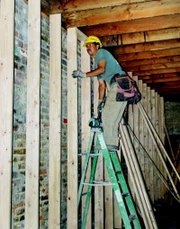 It has been more than a year since Sunnyside's Golden Coin closed its doors and the building on South Fifth Street and East Edison Avenue became empty.
Last year, however, Francisco Mendoza purchased the building with the intent of converting the former Chinese restaurant into a Mexican restaurant.
Construction is ongoing and Marcos Medina, general contractor, said the floor plan of the space is being completely redone. He said new building codes require reinforcements of the brick walls and a number of other changes to the building.
Medina said Mendoza, who is his friend and doesn't speak English, has been considering names for the new eatery. One of the names being considered is El Rodeo.
He said the construction is expected to take approximately four months and it began earlier this month.
Mendoza has hopes of opening the new restaurant in October, according to Medina, who stated one of the many attractions anticipated will be live music.
When asked if Mendoza has worked in the restaurant business before, Medina said he hasn't. But, Mendoza has had a lifelong dream of opening his own restaurant and anticipates employing people who have experience in the business.
Medina said Mendoza moved to the U.S. from Mexico when he was 12-years-old, and has worked in the auto body industry.
His dream is to offer Sunnyside residents an alternative to the eateries currently available. On the menu will be seafood items, enchiladas, tamales, carne asada and many more favorites.
"Some American dishes will also be available," said Medina.
"What he (Mendoza) is really excited about is featuring live bands to entertain people. There isn't anywhere here that bands are in the restaurants."