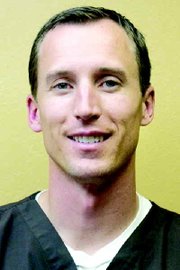 Justin Heiden doesn't like to keep people waiting. In fact, it's a pet peeve of his if he is unable to stay on schedule, and that's good news for patients at his dental clinic, located at 412 S. 13th Street.
Heiden is Sunnyside's newest dentist, taking over Robert Larson's practice officially May 14.
"It's been very busy," Heiden said of his first month. "It's been a good transition."
Growing up in Utah, Heiden's childhood dentist inspired him to eventually become one.
"He had a fun office," Heiden recalled. "He seemed to have fun while he was working."
So after graduating from BYU, Heiden traveled to Virginia to attend dental school at Virginia Commonwealth University. After graduating from there, he practiced dentistry in Arizona for six and a half years.
After deciding to move his family to the Tri-Cities, Heiden came across Larson's practice and decided to purchase it.
He practices general dentistry but he said he works quite a bit with dental implants and also does most of his own cosmetic work. Denture implants are more secure than traditional sets. There are two types of implants, single and implant supported dentures.
A single implant is fitted by putting a post into the patient's bone. The tooth is then snapped onto the end. This method can also be used for bridges as well. The advantage of this is the patient should be pain free when using the new teeth.
Implant supported dentures are a bit different but follow the same guidelines. Implant posts are fitted into the patient's mouth and then a denture plate is snapped into place. Because the plate is held firmly in the mouth by the implant posts, the dentures do not move around like a traditional set would. Sore spots can still form but not like with traditional dentures.
The bone grows around the implant post and Heiden said studies have shown the post should stay in place permanently.
With a traditional bridge, studies show they are replaced on average every eight to 10 years.
The advantage of having a single implant compared with a traditional bridge is the other teeth are left alone. When a bridge is fitted the teeth on either side of the missing tooth are reshaped for a proper fit. With an implant, they are untouched.
Heiden has a staff of six at his clinic and he says they are most sympathetic with people's emergencies and are willing to see people the same day for something as simple as a toothache.
Although Heiden said he and his staff have been busy they can always accommodate more.
"We want to help as many people as we can," he said.
Heiden's clinic is open 7 a.m. to 6 p.m. Monday through Wednesday.
Justin Heiden
1 - Corey Russell • June 24, 2008 • 4:12 PM
Proofed_________ • Corrected & Placed in Folder_____________