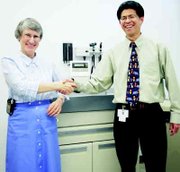 After many months of anticipation, Sunnyside's newest pediatrician, Dr. Mario Tobia, will begin seeing patients next Tuesday, July 1.
Tobia and long-time pediatrician Dr. Anne Nealen have been working together for approximately three weeks. They have been moving into the new Sunnyside Pediatrics facility, located within the Sunnyside Medical Center, on Miller Avenue.
Tobia has been shadowing Nealen, learning the electronic medical records system of Sunnyside Community Hospital and familiarizing himself with the patients and community members of Sunnyside.
Nealen said she is pleased to "have help" after serving as the sole pediatrician within the community for approximately 28 years.
Sunnyside Community Hospital's Tom Lathen said the new office is much larger than Nealen's former office, which was in the Eastgate facility near Sunnyside's Eastway Center.
Nealen agreed, stating her first office was located on Franklin Avenue in the back of Dr. Wrung's practice.
Lathen said the addition of Tobia to the pediatric care of Sunnyside's youth has been long-awaited because the health care needs of the community have expanded throughout the years.
"Dr. Nealen wasn't able to take many vacations and she worked long hours to serve her patients," he stated.
The new office will also be home to a physician's assistant.
Lathen said the physician's assistant will further help Tobia and Nealen provide quality care to the young patients of the community. It will also enable the facility to be classified as a rural health clinic, providing added funding for the physicians and the hospital.
Tobia said he has worked in private practice in Canada for the past seven years. He put in his pediatric residency in New York and has worked at Kennewick General Hospital during his years of medical practice.
He said he and his family have been becoming acquainted with the community and surrounding areas.
"We've been to the Tri-Cities several times over the last three weeks," he laughed.
Tobia and Nealen both said they are excited about the new partnership being created at Sunnyside Pediatrics, stating they feel patients will now be afforded a choice regarding pediatric services.
The two pediatricians serve the health care needs of community members from birth to 18-years-old and feel the "new adventure" is something they look forward to.
Nealen added, "I'm just not sure how to act yet since I am getting used to having someone else helping me."