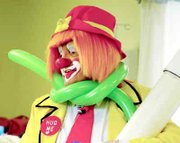 GRANDVIEW - If you ask Arlo Waggoner to describe himself, he'll joke, "I'm a jack of all trades, master of none." After all, Arlo's a jokester.
But to the residents and staff at Grandview Healthcare Center, Waggoner's much more than that.
"Several residents know when he's coming in and they wait for him by the doors," says Grandview Healthcare Administrator David Lamb. "You can almost set your clock by when Arlo's going to be here."
Waggoner's been volunteering at the nursing home since his wife, Joyce, took up residence there about four years ago. Mrs. Waggoner suffers from Alzheimer's disease.
Four years ago, Waggoner visited every day. As time has gone on and her disease has progressed, she no longer recognizes her husband of 50 years. She doesn't walk and can't push her own wheelchair.
"She got to where she doesn't know me anymore," he says.
Though most weeks anymore he visits about three times, some residents can hardly wait to hear Waggoner dish out his wit and wisdom.
Waggoner's alter ego, Waldo the clown, occasionally entertains residents at the nursing home. And, Waggoner is counted on each year as the in-house Santa Clause. He also calls bingo.
"I just want to bring laughter to all of them," he says, simply.
What Waggoner seems to understand, perhaps more than anyone, is that it's the little things that mean the most to those who live at Grandview Healthcare.
One man, he says, likes bookmarks. So Waggoner has given him two: both feature Waggoner's picture, one as Waldo the clown and the other as he looks most days. Another man, from Mabton, is always in stitches when Waggoner teases about Mabton International Airport.
And, of course, there's the 101-year-old woman who proposed marriage. "She pulled me to her, kissed me on the cheek and said, 'You want to get married?'," he recalls, fondly.
"Most of them have a terrific sense of humor, you just have to find out what it is," he said.
Sometimes, just talking about the good old days brings its own comfort, he said. The elders' eyes often light up when they talk about how it used to be.
"They love the little things that most of us take for granted," he said.
Lamb said that Waggoner's a tremendous part of the residents' lives. Staff, too.
"He has ideas for us, whether we like it or not," he joked. "And some ideas we've included." Like the big screen television set.
Lamb said, "If I could put him in any category, I'd say he's our ambassador.
"It's hard to imagine Arlo not being here."