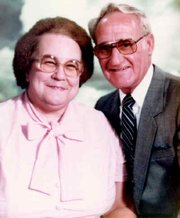 For 32 years Pastor Kenneth Eastman was a steady presence at the Liberty Baptist Church on Swan Road in Sunnyside. Always ready to lend a hand, an ear, or help people out by making sure their bellies were full.
Eastman joined his wife of 57 years this past January when he passed away from heart related problems.
To help raise money for funeral expenses and a headstone, the Eastman estate will be sold this Friday, June 27, and Saturday, June 28, from 8:30 a.m. to 3 p.m. The sale will be at 183 Swan Road, at the little house next to the Liberty Baptist Church where the Eastmans spent so many years of their life.
"Sunnyside is where their hearts were," Patricia Scudder, the Eastman's daughter who lives in Moses Lake with her husband, said.
Eastman moved his wife Reta and their two sons to Sunnyside from Denver, Colo. in April of 1975. Scudder and her other sister, Linda (Eastman) Lang, were already out of the house by that time.
Scudder said her father traveled to Sunnyside for an interview and came back convinced the Lower Valley was where God wanted Eastman and his family to be.
His sons, David and Brian, soon settled into Sunnyside living, attending Sunnyside schools and marrying Sunnyside ladies.
Pastor Eastman and his wife Reta settled in as well, pastoring and nurturing their flock from the pulpit of the church.
"Dad was a quiet type of man but he loved a good joke," Scudder recalled. "He listened a lot, he was a very good listener."
Eastman's style was that of an old-time gospel preacher, his daughter said.
She said many people would stop over at the Eastman's house for a meal, strangers and friends alike. No one was ever turned away.
"My parents didn't really have a lot materially," Scudder said. "But he had a really giving heart."
The Eastmans got by on the pastor's modest salary, taking care of every day needs and then giving back their time and money to serving God.
In 2002 the Eastmans were honored by a Baptist church in Woodinville, Wa. for their years of service to the Baptist church.
The Eastmans lost their son, David, to cancer in 1984. Pastor Eastman would lose his wife to cancer on Feb. 7, 2006.
He stepped down from the church in 2007, after serving 40 years in the gospel ministry.
"Dad was lost without mom and his health deteriorated rapidly after her death," Scudder said. "She was constantly on his mind."
The Eastmans didn't have much life insurance when they died and Scudder said $1,500 is still owed for funeral services. She is hoping to raise enough money from the estate sale and through donations to pay off the remaining debt and purchase a double headstone for her parents.
Because money is still owed for the funeral services, the Eastmans' family has not been able to erect a headstone over their parents' final resting place at Fir Lane Memorial Park, in Spanaway, Wa.
"My father's whole life was about the church and serving others," Scudder added.
She summed up her father's life with a Bible passage from 2 Timothy 4:7. "I have fought a good fight, I have finished my course, I have kept my faith."
More like this story