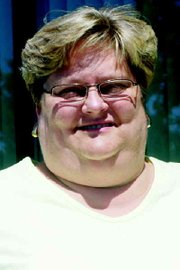 GRANDVIEW - Because she will be working at Grandview High School as a library media specialist this fall, Karen Veloz recently resigned her position on the Grandview School Board.
She has been a well-known face within the Sunnyside School District for more than 20 years. During that time, she has served on the Grandview School Board.
Veloz said she studied to become a library media specialist for a year-and-a-half. As a result, the Grandview School Board approved her for the position of Grandview High School's library media specialist this past Monday.
"It's the right step into the next phase of my career," she said, stating her daughter recently graduated from Grandview High School and she felt the timing was right for additional changes.
Veloz said she moved to the Lower Yakima Valley when she was hired by the Sunnyside School District.
"I was on a one-year contract," she laughed, saying the position with the school district was her first job.
After meeting her husband during the course of that first year, Veloz said she decided not to leave. The two married and purchased their first home in Grandview.
"We still live in the same home," she explained.
Throughout the years, Veloz said she has had the opportunity to work with several mentors, including Ona Kassebaum, who is the current library media specialist at Washington Elementary School in Sunnyside.
She said she has learned a great deal from all whom she has worked with and will miss working in Sunnyside.
"It was my other home," Veloz said.
Most recently, she worked with students involved in the Sunnyside Enrichment Education for Kids program within Washington and Outlook elementary schools.
Veloz stated she was also provided insight into the educational process through her service as a Grandview School Board member. She said she gained a greater appreciation for the staff and school board members during her time on the board.
"They genuinely have the best interest of students and staff members at heart," she noted.
Veloz said leaving the Sunnyside School District and her board position in Grandview was a difficult decision. But, the more she thought about the opportunity to work in the library at Grandview High School, the better the move seemed to be for her.
"Opportunities to become library media specialists are rare...especially at the secondary level," she said.
Veloz stated that she feels the board will do well without her because "...they are a great people with everything in place."
She said she feels honored to have been allowed the opportunity to serve on the school board in Grandview, and "...it was a joy to work with the staff of Sunnyside School District." She enjoyed helping both districts provide educational opportunities for the students of the respective communities.
"But, this is just the right fit and the right step for me," Veloz said.