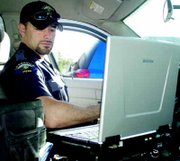 GRANDVIEW - Thanks to a grant submitted by the Yakima County Sheriff's office, Grandview police patrol cars will soon sport computer laptops.
Grandview was among several Lower Valley cities to benefit from the grant, according to Dave Thompson, Chief Civil Deputy with the Yakima County Sheriff's office.
Thompson said the agency received more than $90,000 in grant funds through Homeland Security's Law Enforcement Terrorism Prevention Program.
Initially, he said, the idea was to develop a program where law agencies, with the click of a mouse, could pinpoint locations of various law enforcement vehicles throughout the county. This could help during a multi-agency pursuit.
"We said, 'That'd be great, but Grandview doesn't have laptops'," Thompson said.
Now, each Grandview patrol car will be outfitted with a laptop.
Mabton and Granger benefited from the grant funds, too. Thompson said they had laptops, but, he joked, they were so old "you probably couldn't even play solitaire on them."
Thompson said, "Now that they've got the laptops in the patrol cars, I know this is going to make them a lot more efficient."
He added that officers will be able to see data input from dispatch as the dispatcher is taking a call.
"With the laptop, it gives you that advantage, to see (information) as it's typed in."
Grandview Police Sergeant Mike Hopp has been doing some initial work with the computers. He said having the computers in the patrol cars will help in a myriad of ways.
"It's going to be a huge resource," Hopp said.
All record searches will be done from the patrol car. Right now, an officer radios information to dispatch, who conducts the record search.
"We can also get mug photos and look at the person we're talking to, see if it's really them or if it isn't," he said.
But, he said, "The biggest thing is it's not going to tie up the radio with transfers of information," he said.
And, he added, it will free up dispatchers to do other things. "We won't have to disturb them, we'll just do it ourselves."
Also, Hopp noted, with the GPS tracking, law enforcement agencies will be able to track each other.
Another added benefit is that officers will be more visible in the community. They'll be able to do their reports from the patrol car instead of the office.