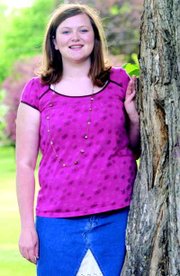 When Jennifer Crane takes to the stage during the 2008 Miss Sunnyside Pageant come September, it's likely that she'll give it all she's got and have fun doing it.
That's her mantra behind pursuing the crown. "I want to show kids, not just girls, but boys too, that they don't have to fit into society's stereotypes to follow their dreams, whether it's running for Miss Sunnyside, Mr. SHS, class president or trying out for a play," she said.
"They must be true to their heart, give it all they've got and have fun."
Crane's hoping to coax the pageant's audience into having fun, too. For the talent portion she'll be singing and acting to Disney's Hercules song "I won't say (I'm in love)." After all, she says, "Laughter's the best medicine, so I figured why not a musical comedy!"
Crane's got a serious side, too. She wants to attend Washington State University while pursuing a business degree. Then, she says, she'd either like to open a restaurant or a photo studio.
Photography is one of Crane's many passions. Also among her passions is singing to country music, scrapbooking with her mother and reading Civil War-themed novels.
She's had roles in SHS plays like Pride and Prejudice and Seussical the Musical. Earlier this month, she shared her drama skills and musical talents with elementary students during the drama club's summer camp.
She's also been actively involved in FFA, FBLA, and the 4-H Grow 'Em and Show 'Em club, where she's been president for two years.
It's no small wonder that if you ask her what her favorite class is in high school, her response, without hesitation is, "Band. Band, band, band." The young musician plays a myriad of instruments, including the flute, saxophone and piccolo. The band class at high school, she says, feels like a family atmosphere.
Should she be selected to serve as Miss Sunnyside for the 2008-09 year, her community service project will be "Cuddle Up & Care," a project that will allow her and her court to serve under-privileged citizens young and old.
"I'd like to hold food, clothing and blanket drives for the less fortunate, (those) who don't have much of these items that we take for granted," she said.
Her focus on the elderly is with purpose. "Our generation is too busy and we don't take time to cherish those who've built our community."
Not only does she want to hold the drives, but she also wants to make it a point to have fellowship with elders in the community.
"By chatting with them just for a few minutes, you can learn so much--their story, your family and community history. It won't be available forever," she said.
Her favorite part of living in the Sunnyside community is harvest time. "The colors of the leaves contrasting to the deep blue sky and the intertwining mix of mint and Concord grape smells," she said.
Crane is the daughter of Donny and Carla Crane and big sister to Matthew, 12, and Brandon, 7.
Her sponsors for the Miss Sunnyisde Pageant are G&J Midwest Ag, the Outlook Fire Department, Sheryl and Brian Vogel and Dale and Kathy Cullen.