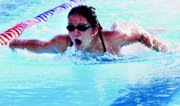 PROSSER - The Grandview Neptunes were handed a 607-167 defeat last night at Prosser.
The team's first win of the evening was that of the Grandview girls 10&U 160-yard medley relay team, consisting of Cali Castilleja, Kassandra Martinez, Aliyah Graham and Elsa Martinez.
Kassandra Martinez later earned a victory for the Neptunes in the girls 10&U 40-yard breaststroke, clocking a time of 43.69 against her competition. She also earned runner-up honors with a time of 3:36.12 to teammate Elsa Martinez, who won the girls 10&U 160-yard individual medley with a time of 3:22.02.
Neptune 14&U boys swimmer Jared Churchill earned three victories against the Piranhas. He clocked 27.43 in the 40-yard butterfly, 31.13 in the 40-yard backstroke and 2:18.92 in the 160-yard individual medley. He edged out Prosser's Nolan Saam in both the butterfly and the individual medley events.
Fabian Ruiz, another 14&U swimmer for Grandview, won the 40-yard freestyle with a time of 22.99. The runner-up in the event was Prosser's Daniel Barnett, who clocked 23.03. Ruiz was runner-up to Churchill in the backstroke with a time of 31.63 and earned third place honors in the butterfly.
Grandview's Micah Binfet earned top honors in the boys 10&U breaststroke, clocking a time of 35.28, edging out Deyton Cleveringa of the Piranhas.
In the girls 12&U breaststroke, Grandview's Taylor Hall earned the victory with a time of 34.78, and 12&U Neptune girls competitor Tiana Perez earned the 40-yard backstroke win with a time of 32.27.
Grandview's Madison Diener and Jose Castilleja were both consistent in earning runner-up honors for the team.
Diener placed second to Prosser's Leah Blakney in the girls 8&U 40-yard butterfly, the 40-yard breaststroke, the 40-yard backstroke and the 40-yard freestyle events.
Castilleja clocked 27.69 behind Prosser's William Burgett, who won the 12&U 40-yard butterfly with a time of 27.39. He was edged again by Burgett in the 40-yard breaststroke, clocking 33.81. Burgett also stole a win from Castilleja in the 40-yard freestyle. Castilleja's time was 23.73 and Burnett stretched for a final time of 23.23.
Grandview competes again in its home pool against Wapato next Tuesday, July 1.
Grandview 167
Prosser 607
160-Yard MEDLEY RELAY
Girls 10&U
1st-Grandviw (C. Castilleja, K. Martinez, A. Graham, E. Martinez) 3:00.37
Boys 10&U
1st-Prosser (S. Blakney, D. Cleveringa, C. Baker, L. Russell) 2:42.75
Girls 12&U
1st-Prosser (G. Villarreal, J. Courtney, K. Burnett, K. Lusk) 2:16.84
Boys 12&U
1st-Prosser (W. Burgett, S. Kawakami, E. Blakney, T. Gant) 2:06.15
Girls 14&U
1st-Prosser (M. Gant, K. Watts, H. Rankin, B. Cherry) 1:52.94
Boys 14&U
1st-Prosser (N. Saam, P. Burnett, D. Barnett, C. Baker) 2:07.10
Girls 18&U
1st-Prosser (B. Beierle, H. Rankin, R. Watkins, H. Saam) 1:48.47
Boys 18&U
1st-Prosser (T. Burgett, B. Hobick, C. McKinney, C. McClammer) 1:40.38
40-Yard BUTTERFLY
Girls 8&U
1st -Leah Blakney (P) 43.70, 2nd- Madison Diener (G) 52.40, 3rd -Cassandra Ruiz (G) 1:10.59, 4th -Shellbbei Martinez (G) 1:11.65
Girls 10&U
1st-Annie Brouwer (P) 35.68, 2nd-Jaiden Hamilton (P) 42.99, 3rd-Maria Mullen (P) 44.13, 4th-Izzy Thornbrugh (P) 44.86
Boys 10&U
1st-Scott Blakney (P) 34.56, 2nd-Deyton Cleveringa (P) 36.31, 3rd- Micah Binfet (G) 41.18, 4th-Maurice Prieto (G) 50.78
Girls 12&U
1st-Gabby Villarreal (P) 31.88, 2nd-Kate Burnett (P) 31.89, 3rd-Madison Zimmerman (P) 33.12, 4th-Camile Kawakami (P) 33.77
Boys 12&U
1st-William Burgett (P) 27.39, 2nd-Jose Castilleja (G) 27.69, 3rd-Sam Kawakami (P) 33.59, 4th-Taylor Gant (P) 33.76
Girls 14&U
1st-Mackenzie Gant (P) 23.45, 2nd-Hailey Rankin (P) 26.64, 3rd-Tiffany Owens (G) 26.95, 4th-Kendall Watts (P) 27.81
Boys 14&U
1stt-Jared Churchill (G) 27.43, 2nd-Nolan Saam (P) 28.66, 3rd-Fabian Ruiz (G) 28.74, 4th-Chase Baker (P) 28.81
Girls 16&U
1st-Hanna Rankin (P) 25.54, 2nd-Bre Beierle (P) 28.02, 3rd-Tara Esparza (P) 36.03
Boys 16&U
1st-Chris McKinney (P) 21.52, 2nd-Branden Hobbick (P) 22.32, 3rd-Spencer Blanshan (G) 23.91, 4th-William Lane (P) 27.06
Girls 18&U
1st-Ruthie Watkins (P) 25.91
Boys 18&U
1st-Tyler Burgett (P) 19.88, 2nd-Anthony Kim (P) 20.90, 3rd-Keagan Christensen (G) 24.40, 4th-Ryan Waddoups (P) 26.82
40-Yard BREASTSTROKE
Girls 8&U
1st-Leah Blakney (P) 41.02, 2nd-Madison Diener (G) 55.50, 3rd-Kylie Colson (G) 56.01, 4th-Hazel Edwards (P) 1:04.06
Girls 10&U
1st-Kassandra Martinez (G) 43.69, 2nd-Reagan Colson (G) 48.01, Annie Brouwer (P) 48.48.29, 4th-Aliyah Graham (G) 48.44
Boys 10&U
1st-Micah Binfet (G) 35.28, 2nd-Deyton Cleveringa (P) 39.18, 3rd-Scott Blakney (P) 40.94, 4th-Taran Perez (G) 52.75
Girls 12&U
1st-Taylor Hall (G) 34.78, 2nd-Kate Burnett (P) 36.53, 3rd-Veronica Lopez (G) 36.63, 4th-Madison Zimmerman (P) 37.70
Boys 12&U
1st-William Burgett (P) 29.00, 2nd-Jose Castilleja (G) 33.81, 3rd-Taylor Gant (P) 34.28, 4th-Sam Kawakami (P) 38.37
Girls 14&U
1st-Mackenzie Gant (P) 29.18, 2nd-Tiffany Owens (G) 30.43, 3rd-Hailey Rankin (P) 34.31, 4th-Kendall Watts (P) 34.63
Boys 14&U
1st-Chase Baker (P) 30.82, 2nd-Daniel Barnett (P) 30.95, 3rd-Nolan Saam (P) 31.22, 4th-Jared Churchill (G) 33.19
Girls 16&U
1st-Bre Beierle (P) 29.20, 2nd-Hanna Rankin (P) 36.82, 3rd-Tara Esparza (P) 41.48
Boys 16&U
1st-Chris McKinney (P) 27.20, 2nd-Branden Hobbick (P) 27.63, 3rd-William Lane (P) 29.11, 4th-Charles McClammer (P) 30.84
Girls 18&U
1st-Ruthie Watkins (P) 34.94, 2nd-Hayley Saam (P) 37.31
Boys 18&U
1st-Tyler Burgett (P) 25.13, 2nd-Anthony Kim (P) 25.89, 3rd-Keagan Christensen (G) 29.13, 4th-Ryan Waddoups (P) 31.50
40-Yard BACKSTROKE
Girls 8&U
1st-Leah Blakney (P) 44.06, 2nd-Madison Diener (G) 50.50, 3rd-Jacqueline Jiminez (G) 52.51, 4th-Hazel Edwards (P) 59.24
Boys 8&U
1st-Kord Tuttle (P) 59.80, 2nd-Angel Morales (G) 1:16.48
Girls 10&U
1st-Jaiden Hamilton (P) 35.28, 2nd-Annie Brouwer (P) 37.61, 3rd-Izzy Thornbrugh (P) 40.73, 4th-Courtney Fredricks (P) 43.06
Boys 10&U
1st-Deyton Cleveringa (P) 33.21, 2nd-Scott Blakney (P) 39.06, 3rd-Maurice Prieto (G) 50.23, 4th-Brett Harris (G) 51.18
Girls 12&U
1st-Tiana Perez (G) 32.27, 2nd-Camile Kawakami (P) 32.88, 3rd-Grace Anderson (P) 34.15, 4th-Makensie Forsyth (P) 34.38
Boys 12&U
1st-William Burgett (P) 32.29, 2nd-Sam Kawakami (P) 33.40, 3rd-Riley Lusk (P) 35.07, 4th-Jose Castilleja (G) 35.94
Girls 14&U
1st-Mackenzie Gant (P) 24.90, 2nd-Kendall Watts (P) 29.62, 3rd-Brenna Cherry (P) 30.15, 4th-Hailey Rankin (P) 30.26
Boys 14&U
1st-Jared Churchill (G) 31.13, 2nd-Fabian Ruiz (G) 31.63, 3rd-Nolan Saam (P) 33.60, 4th-Eric Escobar (G) 35.05
Girls 16&U
1st-Hanna Rankin (P) 26.70, 2nd-Bre Beierle (P) 33.92, 3rd-Tara Esparza (P) 42.47
Boys 16&U
1st-Branden Hobbick (P) 24.91, 2nd-Chris McKinney (P) 25.45, 3rd-Spencer Blanshan (G) 25.56, 4th-Charles McClammer (P) 32.41
Girls 18&U
1st-Ruthie Watkins (P) 28.91, 2nd-Hayley Saam (P) 36.18
Boys 18&U
1st-Tyler Burgett (P) 23.06, 2nd-Anthony Kim (P) 23.87, 3rd-Keagan Christensen (G) 27.18, 4th-Tommy Contreras (P) 27.97
40-Yard FREESTYLE
Girls 8&U
1st-Leah Blakney (P) 31.32, 2nd-Madison Diener (G) 41.67, 3rd-Kylie Colson (G) 46.58, 4th-Jacqueline Jiminez (G) 49.77
Boys 8&U
1st-Kord Tuttle (P) 46.52, 2nd-Angel Morales (G) 1:01.66, 3rd-Christopher Lane (P) 1:11.24
Girls 10&U
1st-Jaiden Hamilton (P) 28.30, 2nd-Annie Brouwer (P) 28.93, Kyla Norell (P) 32.08, 4th-Cali Castilleja (G) 34.38
Boys 10&U
1st-Deyton Cleveringa (P) 27.40, 2nd-Scott Blakney (P) 28.28, 3rd-Camden Baker (P) 34.09, 4th-Maurice Prieto (G) 34.66
Girls 12&U
1st-Karlie Lusk (P) 26.45, 2nd-Gabby Villarreal (P) 27.01, 3rd-Camile Kawakami (P) 27.06, 4th-Tiana Perez (G) 27.59
Boys 12&U
1st-William Burgett (P) 23.23, 2nd-Jose Castilleja (G) 23.73, 3rd-Riley Lusk (P) 25.62, 4th-Taylor Gant (P) 26.97
Girls 14&U
1st-Mackenzie Gant (P) 22.36, 2nd-Kendall Watts (P) 24.84, 3rd-Tiffany Owens (G) 24.90, 4th-Hailey Rankin (P) 25.14
Boys 14&U
1st-Fabian Ruiz (G) 22.99, 2nd-Daniel Barnett (P) 23.03, 3rd-Nolan Saam (P) 23.97, 4th-Jared Churchill (G) 4.62
Girls 16&U
1st-Hanna Rankin (P) 23.18, 2nd-Bre Beierle (P) 25.55, 3rd-Tara Esparza (P) 28.08
Boys 16&U
1st-Chris McKinney (P) 19.46, 2nd-Branden Hobbick (P) 20.16, 3rd-Spencer Blanshan (G) 22.34, 4th-William Lane (P) 23.00
Girls 18&U
1st-Ruthie Watkins (P) 24.53, 2nd-Hayley Saam (P) 25.38
Boys 18&U
1st-Anthony Kim (P) 18.87, 2nd-Tyler Burgett (P) 19.66, 3rd-Keagan Christensen (G) 22.13, 4th-Tommy Contreras (P) 22.16
160-Yard FREESTYLE RELAY
Girls 10&U
1st-Prosser (J. Hamilton, A. Shafer, B. Smith, A. Brouwer) 2:12.72
Boys 10&U
1st-Prosser (C. Baker, S. Blakney, D. Cleveringa, L. Russell) 2:13.06
Girls 12&U
1st-Prosser (G. Villarreal, R. Suhadolnik, M. Forsyth, K. Lusk) 1:57.84
Boys 12&U
1st-Prosser (W. Burgett, E. Blakney, R. Lusk, S. Kawakami) 1:47.36
Girls 14&U
1st-Prosser (M. Gant, K. Watts, H. Rankin, K. Carrigan) 1:45.74
Boys 14&U
1st-Prosser (D. Barnett, N. Saam, P. Burnett, C. Baker) 1:47.12
Girls 18&U
1st-Prosser (R. Watkins, B. Beierle, H. Rankin, H. Saam) 1:54.83
Boys 18&U
1st-Prosser (B. Hobbick, C. McKinney, T. Burgett, C. McClammer) 1:25.82
160-Yard INDIVIDUAL MEDLEY
Girls 10&U
1st-Elsa Martinez (G) 3:22.02, 2nd-Kassandra Martinez (G) 3:36.12, 3rd-Brittney Smith (P) 3:44.18, 4th-Courtney Fredricks (P) 3:55.42
Boys 10&U
1st-Scott Blakney (P) 2:48.01, 2nd-Deyton Cleveringa (P) 2:50.84, 3rd-Micah Binfet (G) 3:28.76, 4th-Maurice Prieto (G) 3;59.27
Girls 12&U
1st-Rylee Suhadolnik (P) 2:43.77, 2nd-Karlie Lusk (P) 2:46.88, 3rd-Tiana Perez (G) 2:47.05, 4th-Makensie Forsyth (P) 2:49.37
Boys 12&U
1st-William Burgett (P) 2:29.81, 2nd-Sam Kawakami (P) 2:36.14, 3rd-Taylor Gant (P) 2:36.87, 4th-Jose Castilleja (G) 2:44.96
Girls 14&U
1st-Mackenzie Gant (P) 1:57.77, 2nd-Hailey Rankin (P) 2:17.37, 3rd-Kendall Watts (P) 2:26.84, 4th-Tiffany Owens (G) 2:27.66
Boys 14&U
1st-Jared Churchill (G) 2:18.92, 2nd-Nolan Saam (P) 2:25.36, 3rd-Chase Baker (P) 2:37.40, 4th-Daniel Barnett (P) 2:38.85
Girls 16&U
1st-Hanna Rankin (P) 2:16.26, 2nd-Bre Beierle (P) 2:24.31
Boys 16&U
1st-Chris McKinney (P) 1:58.43, 2nd-Branden Hobbick (P) 1:58.65, 3rd-William Lane (P) 2:21.74, 4th-Spencer Blanshan (G) 2:24.27
Girls 18&U
1st-Hailey Saam (P) 2:42.81
Boys 18&U
1st-Tyler Burgett (P) 1:52.42, 2nd-Anthony Kim (P) 1:59.41, 3rd-Tommy Contreras (P) 2:15.06, 4th-Keagan Christensen (G) 2:23.23