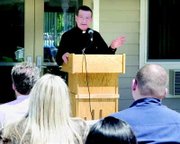 Under a bright blue and sunny sky the latest affordable housing development built by Catholic Charities Housing Services was dedicated and given a blessing this past Friday.
The Most Reverend Carlos A. Sevilla, S.J., Bishop of Yakima, told those gathered in Sunnyside the 51-unit agricultural worker family development called Cristo Rey was about commitment and dedication.
Executive Director of Catholic Charities John Young echoed Sevilla's comments.
"We're here to celebrate what we have done," Young said. "It's not so much what we do but what we believe. All people deserve respect and dignity."
Cristo Rey covers nearly six acres and offers affordable housing to more than 250 men, woman and children. In order to qualify to live at Cristo Rey, residents must earn at least $3,000 a year working in agriculture.
Cristo Rey residents can also tap into the Catholic Family and Child Service office located at the facility. There, residents can take advantage of services offered to children, families and elders such as seasonal child care, child care resource and referral, counseling and volunteer chore services programs.
After Sevilla's blessing, 11 speakers gave comments to those gathered. Afterwards, an Ecuadorian band played while the spectators munched on snacks and toured the facilities.
Sunnyside Mayor Paul Garcia said a development like Cristo Rey accomplishes a lot in a community like Sunnyside. He said the difference Cristo Rey makes for the families that live there is immeasurable.
"Everyone benefits," Garcia said of the city of Sunnyside and the Cristo Rey residents. "This development brings a solid improvement to the area."