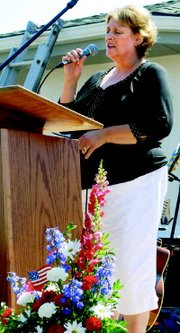 Sunday morning services at Sunnyside's Neighborhood Church Assemblies of God were something special yesterday.
The church held a special service in honor of those who have served in the military and those currently serving throughout the world.
The guest speaker at the event was Chaplain Peter Baek of the U.S. Army. Baek recently returned from 14 months in Iraq, where he served the men and women of the Fourth Battalion Ninth Infantry out of Ft. Lewis.
He said, "God's help and God's grace helped me."
Baek, who was born in Korea, thanked those, too, who served in the Korean War. He said he probably would not be here were it not for them.
Following the services was a special gathering indoors, where everyone in attendance was treated to hot dogs and apple pie.