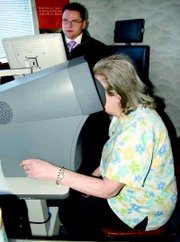 Advances in technology have allowed Sunnyside's Dr. Ronald Couturier to acquire a new machine that photographs the back of the eye.
The machine, known as a digiscope, was obtained at Couturier's office for the purpose of early detection of diabetic retinopathy and other macular degeneration problems associated with diabetes, according to Neurometrix Regional Manager Casey McCanta.
McCanta was in Couturier's office last Thursday, setting up the machine and training the staff at the medical office on the use of the machine.
He said the digiscope takes a series of photographs of the back of a patient's eye, allowing a physician to obtain a grade of the level of severity of diabetic retinopathy. The physician can then provide a patient with a treatment plan.
The photographs are sent to Johns Hopkins University for analysis via an analog phone line, and the results are provided to the physician 24 to 48 hours after they are taken, according to McCanta.
He said, "It is important to detect diabetic retinopathy early."
In addition to the digiscope, Couturier has a nerve conduction system, also manufactured by Neurometrix.
"Adding the digiscope allows Dr. Couturier to become a diabetic center of excellence," stated McCanta. He said the doctor's abilities to treat the number one and two concerns of diabetes patients, which are the loss of limbs and eyesight, is highly valuable.
The use of the machine for a patient is fairly simple. The patient sits in a chair and places their eyes against the machine in what is similar to binoculars.
The procedure takes 10 minutes in which the patient is asked a series of questions, including the type of diabetes they have, their name and date of birth. The patient is then instructed to look at a yellow blinking light inside the digiscope. They read an eye chart and the machine proceeds to take a series of 12 pictures of one eye, while the operator selects the best photographs provided. The process repeats itself with the second eye, and the patient is released as the photographs are received at Johns Hopkins University.
McCanta said it is important that diabetics receive an annual eye exam, and once the results of a patient's diagnosis are received, the doctor can determine the best course of treatment for a patient.