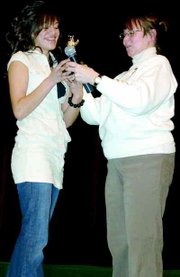 In an awards ceremony held Monday night at the Sunnyside High School auditorium, students from Harrison Middle School, Sierra Vista Middle School and Sunnyside High School were recognized for participating in this year's Sunnyside Science Fair.
The top high school project was entitled "Effects of Packaging and Environmental Conditions on Fruit Juice Quality." The project was the culmination of hard work and analysis by SHS Science Club President Mayra Serna.
Serna has participated in the science fair for three years and is an honor roll student, who earned the opportunity to travel to Indianapolis, Ind. in 2006 for that year's Intel International Science and Engineering Fair.
She is an athlete who wanted to discover what packaging was best for her favorite beverages, according to SHS Science teacher Joyce Stark.
Another returning student to the science fair was Eric Desmarais, who earned first place honors Monday. His project was entitled "Radon Concentrations in New Housing Developments versus Established Residential Communities."
Earning second place honors was Anthony Aguilar, who participated in his first science fair. He entered a project on the design of wind turbine blades and their effect on the efficiency of a wind turbine.
Jacob Brandvold earned third place honors for his project, entitled "The Effects of Botanical Compounds on Wound Healing and Cellular Regeneration of Planaria and Phasmids," also known as the "Walking Stick project."
Stark and members of the science club provided a nickname for each of the participants to keep the awards ceremony lively. For instance, Kristen Wedam was aptly named "The Little Black Dress Lady" for her project on the effects of deodorants on fabric dyes.
Stark named six students for honorable mention honors. They included Wedam, Alejandra Benitez, Brisa Sanchez, Marcus Mendez, Riley Moore and Katie Herndon.
She said the group of projects was outstanding and the judges were impressed with how "well read" each of the students was. She stated she is confident the students will do well at this coming weekend's Regional Science and Engineering Fair at the Columbia Center Mall in Kennewick. The guest speaker at this year's regional science fair will be Dr. Bonnie Dunbar, formerly of Sunnyside, according to Stark.
In addition to the award given to the SHS students, Harrison Middle School teacher Darla Van Corbach and Sierra Vista Middle School science teacher Kiran Dhillan each recognized their students who participated in this year's science fair. In all, the two middle schools had a combined 29 projects entered.