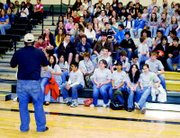 Forget "got milk?" as nearly 150 students from around the Lower Yakima Valley last night were wondering "got pi?"
Middle school students from Sunnyside, Grandview, Zillah, Wapato and Prosser assembled for a three-hour test at Sierra Vista Middle School yesterday, Monday, as part of the Mid-Valley math competition.
Harrison Middle School seventh graders had the best finish among local schools, with a third-place showing.
Prosser swept first-place honors among sixth, seventh and eighth grade math teams. Zillah sixth and eighth graders were second. Wapato's seventh graders were second, while its sixth and eighth grade teams both took home third-place honors.
Sierra Vista teacher Steve Urrutia helped coordinate the event, which drew a total of 140 students, with 48 of them combined from Sierra Vista and Harrison middle schools in Sunnyside.
The math students first met in the Sierra Vista gym and were then escorted in smaller groups by Sierra Vista students to the appropriate testing room.
It was a team effort as students not only sat with teammates from their school, but teachers from other school districts pitched in by helping to monitor the students during the three-hour exam period.
Competition on the hand-written tests ranged from probability to geometry. Urrutia said the competition has been ongoing for about six or seven years and that the regional math test will be back in Sunnyside again next year.
The math quiz may be over for this year, but Urrutia said the team testing season is just barely getting started. "In two weeks we'll have art, science and spelling competitions," he said.
John Fannin/Daily Sun News
Sierra Vista Middle School teacher Steve Urrutia prepares students assembled from around the Lower Yakima Valley for a three-hour math skills test.
&nbsp