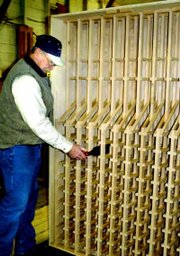 When Al Harris sees a pile of firewood, or a building torn down, he's not looking at a pile of scrap or something that should be burned.
Simply put, he sees potential.
"What's scrap to some people, you plane it and it's still new wood," says Harris. Actually, he clarifies, "You plane it, sand it, clean it up."
As an example, he points to the decorative trim in his kitchen. "These old boards are all (made) out of an old chicken house."
That's not the only treasure he's stumbled across along the way. Harris actually got his hands on some old growth redwood one time that had been brought to the Yakima Valley in the 1930's. They were old hop poles. Today, they've been fashioned into Harris's decorative woodworkings.
Harris has been working with wood all of his life, mostly with buildings. But he became inspired about six years ago to take his creativity to a whole new level after watching a woodworking television show.
"It was just interesting," he says. "What really got me hooked was watching (the show).
"It always intrigued me how you could get things so perfect."
Perhaps what's most challenging is getting the various parts to fit together, he says.
Harris's creations run the gamut. He can work on small items, like writing pens, up to bigger items, like rolling pins, bowls and salt and pepper shakers. But he also does custom wine racks.
Right now, he's working on an intricate wine rack that, when completed, will hold up to 300 bottles of wine and 48 glasses.
That project, he said, should take about 30 days.
He said another challenging part of his woodworking creations is applying the finish.
Among his favorite woods to work with is black walnut. "It works easy, it melds easy. It finishes nice," he said, adding walnut's nice too.
Harris, who owns C&A Construction with his wife Carole, says when he's not working on a current construction job, he spends "50 to 60 hours, easy" woodworking in his shop.
It's relaxing.
It's also making it to where their home is overflowing with Harris's designs.
"We need to sell some things," jokes Carole. "I'm running out of room!"
To view or order Harris's works of art, call 836-2460.