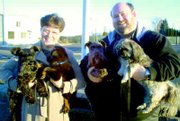 Installed at Norm and Sandy Childress's house is a revolving door. A revolving doggie door, that is.
For the past two and a half years, the Childress's have opened up their home to foster dogs waiting to find a permanent home.
Sandy said she was inspired by a column Jeane Williamson of Saving Grace Pet Rescue in Toppenish wrote. It was then the couple agreed to open up their home.
"Sandy really enjoys it," said Mr. Childress, adding that for his wife, nurturing comes by nature.
Some dogs are in "bad shape" by the time the Childress's foster them. "She doctors them back to health and she trains them. She just has real patience," says Mr. Childress. "Even if they're only there a couple of days, Sandy can work her magic."
Shadow and Sadie, the couple's mini-schnauzers, and Sophie, a shih-tzu, are permanent fixtures in the Childress home. It's for this reason they will only foster up to two dogs at a time.
Sophie was actually a foster dog, but the Childress's fell in love with her.
"Sophie, the shih tzu, is the only foster who preferred Norm to me right away and that's why Norm wanted to keep her permanently," said Mrs. Childress.
The foster dogs have to be of relatively small size in order to foster at the Childress's home.
"Dogs must be able to go in and out of a doggie door- any dog larger than the doggie door we do not take," says Sandy, adding that it's "simply unfair" to keep them cooped up in the house all day with no means of getting outside.
The Childress's foster dogs from three pet rescues: Williamson's, Grandview Animal Control and Yvette Fitzgarrald's Saving Grace Pet Rescue in Prosser. Each organization handles the actual adoption process for the dogs. Mrs. Childress said they have fostered up to a month or as little as 48-hours. The average turn around time is from four to seven days.
The Childress's take their job as foster parents seriously. Norm recently installed a handicap ramp for Todo, a foster dog riddled with health problems. "He's worth it," Norm said.
Just last night (Tuesday), the Childresses took Todo in for surgery. He has cataracts, a heart murmur, a hernia and he was malnourished. "He was so sick, he couldn't even eat. Sandy gets up in the morning and feeds him by hand," said Norm.
Norm joked that when he and his wife go shopping, there's usually more doggie items in the cart then people items.
When asked what the rewards are of fostering dogs, Sandy answered, "Dogs love us unconditionally- all it takes is a little kindness, food and water, and play time- throwing a tennis ball, a walk around town, a milk bone or two!
"Seeing a scared, cowering dog blossom into a bouncy, active animal that no longer acts as if I'm going to hit or kick it every time I get near (is rewarding)."
Mrs. Childress said that she wishes people would consider adopting animals from rescues or the humane society versus going through a breeder.
"You would be surprised at the quality of animals that end up in a rescue situation," she said.
She's also a firm believer in spaying and neutering. "I don't understand why people are so reluctant to stop puppy and kitty litters. Too many starve or are killed due to uncaring owners."
Mrs. Childress said that she and her husband are in it for the long haul. "This valley has an inordinate number of abused and abandoned dogs and cats (in) need."
For a few lucky pooches, there's a safe haven in the Childress home.