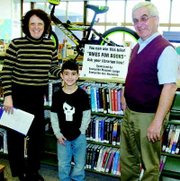 Members of the Sunnyside Masonic Temple have rallied to support a program that encourages literacy, reading at the elementary school grade level.
This is the first year the Masons have been involved in the project.
"Masons are interested in literacy," Bill Flower, a Masonic Lodge member, said.
He said statewide programs for literacy are promoted by Masonic Lodges throughout the state and this is just one of those programs.
Flower and other Masons partnered with Ace Hardware in Sunnyside to purchase 10 bicycles, five boy's bikes and five girl's bikes. The bikes were split into pairs and taken to the Sunnyside Public Library and Chief Kamiakin, Washington, Pioneer and Outlook elementary schools and given to the librarians.
The librarian at each venue are creating reading contests on how the bikes can be won.
At the Sunnyside library, elementary age students sign up for the contest and have to read books. For every 50 pages they read, the student will receive a ticket to put into a drawing. The more pages read, the more chances to win the bikes. The students will fill out a small report on the book as well, stating whether they liked it or not.
At Washington Elementary School the contest will be based on the school's accelerated reading program. If a student meets all their goals, they will be given three chances to win the bikes. Only third, fourth and fifth grade students are eligible.
Pioneer Elementary and Outlook Elementary School are as yet undecided on how the contest will work.
Chief Kamiakin Elementary School hasn't yet announced its contest rules.
Flower said the Masons have been promoting literacy for several years and have given books to libraries in the past. If this particular program proves to be successful in getting young students to read, Flower said the Masons will continue the program.