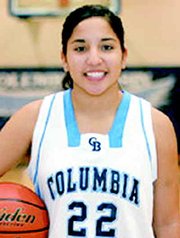 Vanessa Torbay, a 2007 Sunnyside High grad, has in the past 12 months experienced the highest of highs and lowest of lows when it comes to basketball.
Torbay and the Lady Grizzlies suffered through a winless 2006-07 campaign, but this past weekend she helped Columbia Basin College to the Eastern Region and NWAACC women's basketball title.
"It was an indescribable feeling," Torbay says of the transition from 0-20 to 28-3 and a championship. "I can't believe it. I came from Sunnyside High School and I didn't have a good senior year."
Torbay, a shooting guard, was a reserve this past season for the sophomore-laden Hawks. Even so, she still managed to see action in 16 of 20 regular season games, averaging two points in about eight minutes of play per contest.
Her season-high was in a pre-season game against Blue Mountain Community College in which she scored 11 points.
Torbay, the daughter of Roberto and Laura Matus, had offers to play for community colleges in Wenatchee and Shoreline, but chose CBC, she says, because of Coach Cheryl Holden's program and the chance to play closer to home.
"I felt they were more open," she says of the CBC women's hoop team.
Winning isn't the only transition Torbay has faced in her freshman season of community college ball.
"The game's faster, a lot faster, and you have to be smarter in your decision making," Torbay observes.
She says conditioning is a factor in the college game, since there are two 20-minute halves, instead of more frequent breaks in the eight-minute, four-quarters of high school hoops.
"We're really conditioned, we run a lot," Torbay notes. "I like it better actually. At halftime coach uplifts us, then we're ready to go finish off the game."
Torbay, a team MVP and captain for the Lady Grizzlies in 2005-06, is looking forward to her sophomore season and helping CBC retain its crown.
"I'm working hard and hopefully we can win another championship," she says. "I know what it takes now. We've got to push hard."
In 2007-08 pushing hard for CBC meant moving up in the rankings and going undefeated since December of last year.
Whether she starts or provides a spark off the bench, Torbay just wants to play basketball next year and beyond.
"I eventually want to study education at CWU," notes Torbay, who says she may walk-on for the Wildcats. "I want to play at the four-year level."