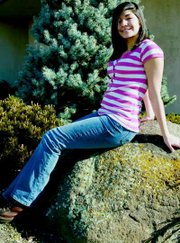 "I've always had a dream to be famous."
Those are the words of Jazmine Salmeron, a contestant in this year's 2008-09 Miss Cinco de Mayo Pageant.
And if things go right, this will just be one step on her way to fulfilling her dream and becoming famous.
It was this dream that encouraged her to compete for the Miss Cinco de Mayo title. Salmeron has also had family members experience the thrill of vying for the title.
"I've always liked how it was run," Salmeron said of the pageant. "I also like the idea of going around and meeting people in our community and helping them."
The daughter of Ricardo and Maria Salmeron feels she would make a good addition to the court because of her strong leadership skills. She was program chair for ASB leadership when she was in the eighth grade. This past summer she went to WSU for a youth leadership conference sponsored by the National Hispanic Institute.
"That taught me so much," she said. "It was such a great experience. I was able to bring a lot of ideas back from the conference."
She also likes to help out in the community, claiming if she's called for it, she does it.
If named Miss Cinco de Mayo her service project will be working with the Washington State Migrant Council.
"I want to help parents get involved with their children's life at school," she said.
She wants to hold meetings so parents can learn about WASL testing, sports and academic groups. "Everything," she said.
Salmeron will combine her talents of singing and dancing for the talent portion of the pageant. An accomplished dancer, Salmeron has been teaching at Martin's School of Dance for a couple of years and has been singing Mariachi music since she was four.
"I love the (Mariachi) music and the feeling you get when you're in front of people," Salmeron explained.
She also likes it because she stays close to her roots.
"I can see how much pride my grandpa has in his eyes when I'm singing," she added.
As long as she's been singing Mariachi, Salmeron has been dancing as well. She grew up close to a dance studio and can remember thoroughly enjoying herself.
Not only does she teach at Martin's School of Dance, she is a student there as well. This is her second year as a Grizzliette, the Sunnyside High School dance team.
She stays busy at school with after school clubs. Besides being a Grizzliette and in the Mariachi band, Salmeron is involved with the leadership class, the drama club and is a secretary in the student council.
In the future Salmeron would like to become a professional dancer, or maybe a choreographer. Failing that, she's thought of entering the medical field. She is undecided on what college she would like to attend.