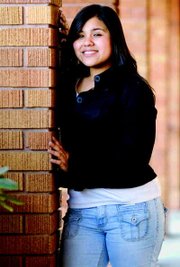 Margarita Manzo, a 15-year-old sophomore at Sunnyside High School, has known about the Miss Cinco de Mayo Pageant since she was 10-years-old.
"I always thought it was cool," she said.
Now, just five short years later, the daughter of Jose Manzo and Margarita Casio will get her opportunity to be named to the court April 18.
The court is important to her, saying it goes back to her culture. An added benefit is she'll be able to meet several new people and help in her community.
"That's what I really like to do," she added.
Manzo feels she would be a good fit on the court because she is very good at getting along with people.
"I'm very friendly," she explained.
If Manzo is named Miss Cinco de Mayo her service project will be helping the homeless. Manzo wants to help out with the homeless survey next year and motivate people to donate items that they don't need anymore.
"They are less fortunate than most people," Manzo said of the homeless. "They have medical problems, housing problems and not enough money to support their family."
She was at Sunnyside's last homeless survey and saw young children get excited when they were given stuffed animals.
"I like watching them smile, it makes me feel good," she said.
In the talent portion of the April 18 pageant Manzo will unleash her singing talents on the unsuspecting. Manzo said she has been singing for a while but not too many have heard her, except for church members.
"I'm hoping to blow them away," she said.
Manzo will perform a song by Jaci Velasquez, a popular Christian music vocalist.
At school Manzo is involved with the Latino Culture Club, a group that comes up with ideas to help the community of Sunnyside.
She hasn't been involved with sports yet in her high school career but hasn't ruled out joining the girls soccer team next fall. She also wants to participate in next year's powder puff football game.
Her main hobby is drawing, something she has done since she was in the fifth grade.
"When I need some time for myself I can draw," she said. "It calms me down."
After high school Manzo said she would like to become a doctor. If successful, she has plans to travel to Mexico to help the less fortunate there. Traveling is something she is fond of, having visited several states in the U.S. Manzo said she is hoping to continue her travels this summer when she plans on going to Florida.