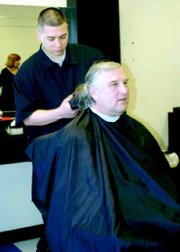 The male population of Sunnyside now has another option for their hairstyling needs.
This past Saturday, Manny's Barber Shop held its grand opening, providing another spot for men to get their hair cut. The owners are Manny and Blanca Cortinas.
Manny said he considers himself a modern barber, who is providing a service to the community and keeping up with the current men's styling trends.
He said he has hopes of reviving what he believes is a long-standing tradition that has received less attention throughout the years. "A barber is important because they establish relationships with the community members they serve," he stated.
In addition, Manny said he would like to eventually expand his business and open a school teaching the time-honored trade.
He attended Sunnyside Beauty Academy and successfully completed a course offered by Master Barber Tony Lisi.
Manny's Barber Shop is located at 422 South Seventh Street in Sunnyside. Customers can make an appointment by calling 830-1106.