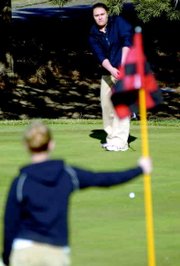 Prosser won both the boys and girls team titles at yesterday's Grandview Golf Jamboree, but the Mustangs were unable to corral all the top honors.
That was due to Sunnyside's Justin Bos and Sarasa Partida.
Bos, a senior, battled winds that gusted up to 30 miles per hour and came away with medalist honors, shooting a 5-over-par 41 on the front nine at Black Rock Creek Golf Course. The closest any golfer came to him was a 44, carded by Prosser's Tommy Contreras.
Partida was 11 strokes better than her closest teammate in tying Prosser's Candice Cooper for medalist honors on the girls side. Both, Partida and Cooper closed out back nine play with identical 58's.
The host Greyhound linksters were led by senior Kyle Womach on the boys side, who patched together a workman-like 48; and senior Katie Veloz in the girls competition, who hit the clubhouse with a 66.
"We didn't get any rain yesterday, but the wind was really blowing," said Grandview coach and tournament director Dave Uggetti. "It was pretty tough conditions out there.
"Everything considered, the scores weren't all that bad," he said.
In playing the front nine Tuesday afternoon at the Sunnyside golf course, Prosser's boys bested the Grizzlies by seven strokes in the team scoring, notching an aggregate score of 197. Sunnyside tallied a 204, with Grandview's boys posting a 228.
In addition to the 41 that Bos carded for Sunnyside, the Grizzlies had individual efforts of 49 from A.J. Visser, 55 from Nathan Espinoza and 59 from Nick Navarro.
The Grandview boys' scoring included Womach's 48, a 52 by sophomore Josh Jardine, a 56 by sophomore Ryan Contreras and a 72 by junior Tim Broadie.
In the girls competition, Prosser totaled an invite-low 251 strokes. Sunnyside was second with a team score of 281 and Grandview's girls finished at 303.
In addition to the 58 that Partida shot for Sunnyside, the Lady Grizzly squad got a 69 from Renee Visser, and a pair of 77's from Monica Martinez and Kassie Reyes.
The Grandview girls' individual scores included Veloz's 66, Amanda McLean's 76, Hannah Ziegler's 78 and an 83 by Ivette Frias, who just two weeks ago picked up a golf club for the first time ever.
In looking ahead, Grandview's boys squad is scheduled to compete at the Othello Invitational this coming Friday, and both the Greyhound boys and girls teams will be at the Wildhorse Invitational in Pendleton, Ore. next Monday, March 17.
Sunnyside's boys return to action this coming Friday at the Kennewick Invitational at the Tri-City Country Club. The Lady Grizzlies' next competition will be the Thursday, March 20, Columbia Basin League opener at Kennewick's Canyon Lakes Golf Course.