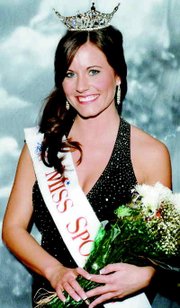 SPOKANE - Going to college can be expensive so it never hurts to add a little bit of money to your pocket.
That's what Alyssa Fennell did on Feb. 18 when she beat out nine other contestants and was named Miss Spokane for 2008.
Along with the title comes $2,500 in scholarship money, plus other prizes.
This isn't the 2004 Sunnyside Christian High School graduate's first time competing in pageants. She was the first princess on the 2002-03 Miss Sunnyside Court. In 2005 she was named third runner-up in the Miss Tri-Cities Pageant and in 2006 she was named second runner-up in the same pageant.
"I enjoy competing in pageants and I like the scholarship money," she said, explaining why she competed in this year's Miss Spokane Pageant.
Fennell is a student at Eastern Washington University, where she is studying communications with an emphasis on public relations. She is also earning a psychology minor. The latest Miss Spokane is also a member of EWU's cheer squad.
Fennell performed a comedic routine for her talent portion of the pageant. Titled "Thoughts during a boring sermon", the monologue portrayed a young girl sitting through a church service.
"I've been going to church since I was a little girl," she said. "I've sat through many sermons, not necessarily all boring, though."
She competed ofr teh Spokane title on a lung cancer awareness and prevention platform. She has family members that died in the past from lung cancer and some that are suffering now.
Being Miss Spokane will give her a chance to spread the word about lung cancer and also give her an opportunity to get out in her community.
Other prizes Fennell won are a gym membership for a year, free hair styling and manicures for a year, and $700 for a wardrobe when she competes in the Miss Washington Pageant next July.
She likes her chances in the Miss Washington Pageant.
"I would like to win and go on to Miss America," she added. "It's always been a dream of mine. Competing with all the local title holders will be a wonderful experience as well."