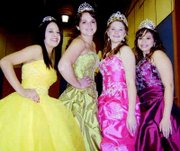 It's often described as an experience of a lifetime. It's also an opportunity for young ladies to earn scholarship money.
The "it" in question is vying for the title of Miss Sunnyside.
The Miss Sunnyside Committee is currently seeking 2008-09 candidates. Those who sign up to compete for the prestigious title will put it all on the line at this year's Miss Sunnyside Pageant, scheduled for Saturday, Sept. 20.
Leading up to the pageant the candidates work together from April through September, preparing for their crowning glory on stage, all the while forming what are often lifetime friendships.
An added benefit of competing for the Miss Sunnyside title are the college scholarships that are presented to the young ladies. Those selected to serve on the Miss Sunnyside Court during the 2008-09 year will represent the community at numerous functions, including parades, chamber of commerce social events, ribbon cuttings for new businesses and at other pageants that are held up and down the Yakima Valley.
This year's Miss Sunnyside Pageant is open to high school sophomores who reside within the boundaries of the Sunnyside School District. Candidates must have a minimum grade point average of 2.8.
Two informational meetings have been scheduled for those girls interesting in competing. The first is at 11:50 a.m. (lunch time) on Monday, March 24, in Teri Alvarez-Ziegler's Sunnyside High School classroom (#201). A second informational meeting will be held the same day and at the same place, at 2:20 p.m. Application packets will be available at both meetings.
Those unable to sit in on either informational meeting can obtain an application packet from Alvarez-Ziegler or from the Sunnyside Christian High School office on Tuesday, March 25.