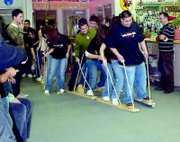 Sunnyside High School's Latino Culture Club is as much about celebrating Latino culture as it is about leadership.
This is the club's first year under the name Latino Culture Club, and just the name change itself seems to draw more students.
Club advisor David Rodriguez said that when the club was known as MECHA, it was historically known as a more political club, whereas changing the name to Latino Culture Club made it open to everybody.
Virginia Frausto, a junior, agrees, saying she doesn't even know what the letters in the word stood for. This year's club, and the new name, she says, "Could be recognized by anybody."
The club's new name and "fresh start," as Rodriguez puts it, has made membership double.
Since the beginning of the school year, the students have made an impact on themselves, the community, younger children, on a statewide level and, soon, possibly a nationwide level.
Latino Culture Club members traveled to Olympia earlier this year to participate in a state Latino Education Achievement Program.
"It's an annual conference in Olympia where (students) address issues at state and national levels. Latino students, parents and teachers get the chance to bring issues to the legislators," Rodriguez said.
While there, the Sunnyside club was asked to lead a small breakout session on leadership training.
Not only was the energy palpable, it was standing room only. Rodriguez was later told by teachers from other districts that had they known about that portion, they would have sent more students.
It's no surprise that club members are leaders. They meet every Wednesday and usually begin the meeting with a leadership activity.
"The first thing we do is start with a leadership activity to get people involved and out of their seats," says Frausto.
Frausto describes one called "Chaos," in which one student must select two peers. All must remain silent. In a packed room of 100 club members, wherever the leader student goes, the two must follow and stay the same distance each time.
This, she says, reflects how one person's choices affect the lives of others.
The students are impacting the lives of younger kids in the district as well. Latino Culture Club students mentor elementary school students. Recently they were asked to help with a migrant student who just moved here from Mexico. The young boy was withdrawn, spoke very little and had hardly any interaction with his peers.
Turns out, he was a perfect match for a Latino Culture Club member who had once found himself in the same position.
Through empathy and, of course, developing leadership skills, the young boy now eagerly awaits the arrival of the Latino Culture Club students.
Irvin Mendoza, a senior, said of the boy, "He didn't speak. He was shy. Now he's actually talking to us, asking us questions like 'How can I do this (or that)'?"
Frausto added, "It all goes back to encouragement. You need an older influence. Especially at the middle school age."
Their energetic and engaging ways don't just influence the young. The club hosts meetings for parents and the students are candid about what their needs are, how parents can address those needs and which avenues to take in order to do so.
Club member Sergio Abundiz said, "When the parents get involved, they motivate their children to get involved."
Club members have also broken apparent barriers. The students wanted their own club t-shirts, but the ASB office couldn't spring for them. So they turned to the Office of the Superintendent of Public Instruction.
According to Rodriguez, it was the first time ever that OSPI funded such an endeavor.
The t-shirts feature an Aztec calendar created by Mendoza and, if you look closely, you'll see in fine detail how he worked Sunnyside High School and Latino Culture Club into the intricate design.
Four club members, including Mendoza, are getting ready to participate in a national Latino Educational Achievement Project conference.
There's a strong chance they'll leave their mark there, too. They've been asked to give a presentation on Sunnyside High School's Latino Culture Club as a possible model for other schools.
Frausto says of the club, "Most of us see it as a life changing experience."
Adds Rodriguez, "It's overwhelming, but in a good way. A very good way."