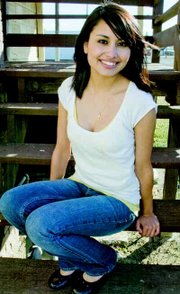 Community service is one of the main reasons Daniela Ramos is in the running for the 2008-09 Sunnyside Miss Cinco de Mayo title.
"I think it's a really good opportunity for me," she said. "I've known a lot of girls who have run before and I've gotten good feedback from them. I didn't want to pass it up."
Ramos also admits being on the court will look good on college applications and could provide needed scholarship money.
The 16-year-old sophomore at Sunnyside High School is the daughter of Daniel and Martha Ramos. She said she believes she would do a great job on the court, citing her punctuality and leadership skills as two reasons.
"I'm ready for these types of responsibilities and this would be a good way to show people I can do it," she added.
If Ramos is named Miss Cinco de Mayo her community service project will be working with Sunnyside Community Hospital. Ramos said she has thought of doing some fundraising. She's also been thinking of working with the Children's Village at the Mid-Valley Mall.
For her talent presentation in the pageant Ramos will perform a folkloric dance and is in the process of getting her dress made.
"I think it's a beautiful dance," she said.
Ramos lists her hobbies as playing tennis.
"I like to play it a lot," she said. "It becomes a problem in the winter."
Ramos is also a member of of the Sunnyside High School tennis team, where she made varsity this year for the first time. She plays #3 doubles.
She is also planning on trying out for the cheer squad at Sunnyside High School next year. The young lady is very busy with school activities, saying she doesn't want to miss our on her high school experience.
Because of that she is involved with the pep club and is her sophomore class ASB treasurer.
Ramos said she likes her French class, "...because it makes me tri-lingual," but her favorite class is AP world history.
"I think history is very important," Ramos explained. "Everything we know comes from it."
She is also in the science club, where she is competing to move on to the state science fair finals. Her project is how different solutions affect the color of carnations.
As for a career she isn't quite decided on what she wants to do. She knows she wants to travel and would like to do that by being a journalist or a historian.