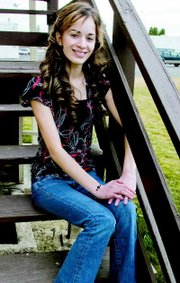 Looking to get people to notice her more and possibly make some new friends, Sunnyside High School sophomore Liliana Trujillo is competing for the title of 2008-09 Miss Cinco de Mayo.
"At school I know I'm a quiet, shy person," she said.
The daughter of Carlos and Liliana Trujillo thinks she should make the court because she is, "...trying hard. I've never done anything like this before," she admitted.
Trujillo said she likes helping out in her community and thinks if she makes the court it would set a good example for her younger siblings.
If she is named Miss Cinco de Mayo her community service project will be helping out businesses in Sunnyside. She has spoken with people from A&Y Furniture and might help out there in the office.
For the talent portion of the April 18 pageant, Trujillo will sign the song Tu Solo Tu.
She has been practicing for a while by singing in front of family, but she said she's never sung in front of a large crowd before. She did say she will start singing in her church's choir soon.
At school Trujillo said her favorite classes are English and art. For after-school activities she is involved with the Latino Culture Club.
She was going to play fastpitch softball this season for the Lady Grizzlies but because of her commitment to the pageant, decided to wait until next year.
She considers herself athletic and likes to play several sports, such as volleyball, soccer, softball and even football. As a junior next year Trujillo said she is looking forward to playing in the annual powder puff football game.
Reading is another hobby she has. She said she is now reading the book The Lost Boy.
She also likes to dance, saying she enjoys it. She likes to get together with her friends and dance.
After high school Trujillo said she would like to go to a four-year college but isn't sure which one yet. She said she would like to become a pediatrician after she is finished with her schooling.