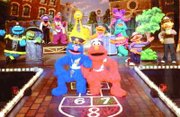 KENNEWICK - Everybody loves Elmo and now they have a chance to see him and his Sesame Street friends perform live at the Toyota Center come Tuesday, May 13, and Wednesday, May 14.
The much-loved muppets will explore what they want to be when they grow-up during three scheduled live stage performances.
The show is a musical and tale of sorts. Bert dreams of being a forest ranger, Telly longs to be a cowboy and their newest friend, Abby Cadabby, wants to be a fairy Godmother just like her mommy. Elmo thinks about becoming a weather monster, but has a hard time predicting his own forecast: he wants to be anything and everything all at once.
"When Elmo Grows Up" includes lessons on perseverance, teammwork and the power of imagination. Children learn that if they believe in themselves and are willing to try, the possibilities are endless.
Like television's Sesame Street, the live production features lessons for all ages. Through the razzle dazzle of this musical, children learn about patience, acceptance and teamwork.
Meanwhile, adults will appreciate the high-tech stagecraft, cleverly written scripts and music they'll recognize and enjoy sharing with their children, such as "Home on the Range," "Down on the Corner" and "Give a Little Love."
The show features nearly two-dozen songs, including classics that children love to sing.
Tickets go on sale Monday, March 24, at 10 a.m. at either the Toyota Center Ticket Office or Ticketmaster outlets, as well as Ticketmaster's website, www.ticketmaster.com.
The Tuesday, May 13, stage performance is slated to begin at 7 p.m. Two performances are scheduled for Wednesday, May 14, at 10:30 a.m. and 7 p.m.
Ticket costs range from $12 to $16. A limited number of $20 premium seats and $25 VIP seats are also available. A facility fee of $1.50 will be added to each ticket.
The Toyota Center is located at 7100 West Grandridge Boulevard in Kennewick.
For more information, call 509-737-3722. For information online, visit www.sesamestreetlive.com.