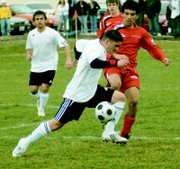 GRANDVIEW - "There is one team on the pitch that is hustling to every loose ball and it's not us," Grandview High School varsity boys soccer coach Anne Holden told her 2A team at the half yesterday.
The other team was 3A Sunnyside, which used a Jesus Solis goal in the third minute of play to earn a 1-0 win Thursday over the host Greyhounds.
It was Grandview's season debut, and Holden said that might have been a factor early on. "It was like those first four minutes there was a little bit of nervousness," she said.
Sunnyside Coach Juan Pineda picked up on it as well, noting the Greyhounds were a bit shaky at the start of the game. "For the first 15 minutes we controlled the match," he said. "That was the difference in the game."
The Grizzlies (2-0) had taken the ball to Grandview's goal as a group, Pineda said. After two errant shots, Solis picked up the second rebound and blasted the ball past Grandview (0-1) for what proved to be the deciding goal.
Sunnyside had three clear one-on-one situations with Grandview's keeper but came up short all three times.
"He was playing great," Pineda said of Greyhound keeper Teclo Perez, who recorded six saves.
Pineda said the match was played evenly after the first 15 minutes.
"It was a very tight game," he added. "We have a lot of respect for them. They should do well in their league this year."
Things got even tighter in the second half, when Grandview outshot Sunnyside 5-to-2. "We had two wide open shots," Holden observed. "Bruno (Cortez) should have scored."
In the final minutes Cortez, Samuel Villa and Cesar Barriga all had shots inside the Sunnyside penalty box but couldn't get them past Grizzly keeper Joaquin Perez, who recorded nine saves on the day. "Sammy (Villa) played hard all game," Holden observed.
She also praised senior Edi Arambula's play on defense, "He was the glue that kept the back line together."
Grandview returns to action Saturday against Prosser in its Mid-Valley League debut.
While praising the tight game her squad played against a Sunnyside team that was State caliber last season, Holden said a key for Greyhound improvement will be discipline to move the ball upfield with short kicks to other teammates instead of trying to kick a long ball over the opponent.
Pineda praised his defense, which is still unscored upon this season. The Grizzlies host West Valley on Saturday, and the coach noted his squad will work to improve play at the midfield and forward positions.