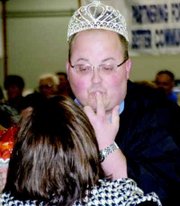 The Sheriff, also known as Sunnyside Police Chief Ed Radder, was in town Saturday night and he named a number of outstanding citizens recently nominated as "Sunnyside's Most Wanted."
The western-themed Sunnyside Chamber of Commerce's annual awards banquet and auction at the Johnson Concentrates building went off without a hitch. Community members gathered around a variety of tables featuring silent auction items, such as trips and autographed St. Louis Rams memorabilia provided by Sunnyside native Scott Linehan.
One table, capturing the western motif, was decorated by Sunnyside Christian High School.
Cowgals and cowboys enjoyed a barbecued meal before bidding on dessert. The highest bid was for $100. Sunnyside's Greg Smith proved to be a talented auctioneer during the live auction event. His son, Grant, donned the crown of Miss Cinco de Mayo (Alejandra Bobadilla) and provided entertainment while showcasing a strawberry cheesecake.
The Miss Sunnyside, Miss Cinco de Mayo and Yakima Valley Dairy Ambassador courts were all on-hand to provide bidders an opportunity to see the sweet delectables during the auction.
Following the fun and excitement of dessert was the moment the crowd had been eagerly awaiting. Radder stood at the microphone with Sunnyside Chamber of Commerce Executive Director Pam Turner by his side. He began announcing the winners of the 2008 Chamber of Commerce awards with the recipient of the Outstanding Youth award, Melissa Stamschror.
Stamschror had been at Radder's other side, listening to him list her achievements. He was halfway through the number of activities she is involved in when her face registered her acknowledgement that he was, indeed, speaking about her.
"She is one youth that probably has never said, 'There isn't anything to do in Sunnyside'," stated Radder as he announced her name.
The next nominee was introduced with a Powerpoint presentation by his employees at Sunnyside Community Hospital. Jon Smiley was recognized for his contributions to the community through his dedication to the revitalization efforts at the hospital. He was named the Outstanding Business Person in a Large Business for 2008.
The Outstanding Business Person in a Small Business was Cathy Hunsaker, who garnered four nominations for the award. Now the owner of Scissor City, located inside Electric Beach, she was recognized for her commitment to the community and providing services to those in the community.
According to the nomination form submitted by Toni Morrow, Hunsaker even provides transportation for clients needing to make doctor appointments and, Patsey Wiersma said, "Cathy is a very giving person."
The recipient of the Outstanding Senior Citizen award was Santos Martinez, who at more than 80-years-of-age still volunteers with Volunteer Chore Services. She serves low-income elders and adults with disabilities, providing transportation for those involved with Catholic Family and Child Service programs. Program Coordinator Natalie Curfman nominated Martinez stating, "Mrs. Martinez is an outstanding example of a selfless, giving and hard-working volunteer."
The Outstanding Health Care Person of 2008 was Carol Bos, known for her service and caring for those at Lower Valley Hospice and Palliative Care. She was nominated by Pam Craig. Bos was noted for her continued devotion to those in need, even during her own battle with cancer.
Judy Carrick was named 2008 Outstanding Educator. She has served students in the Sunnyside School District for more than 25 years and currently is a teacher at Sierra Vista Middle School. Carrick was recognized for her openness and candor regarding her personal battles, her abilities and steadfastness in educating Sunnyside's youth.
City of Sunnyside employee Mitch Ziegler was recognized as the Outstanding Public Official/Employee. He was recognized for his ability to keep the city parks "...green, clean and safe."
Another hard-working individual keeping Sunnyside beautified is Travis Jansen, who was awarded recognition for Outstanding Community Beautification. Jansen put forth his time and efforts at beautifying the I-82, exit 67 interchange. He was nominated by Vernita Coffey for his hard work.
The 2008 Outstanding Volunteer award recipient was Carol Stone. She was recognized for her faithful service to the community through a variety of service organizations and events. She was also noted for her devotion to the citizens of Sunnyside through her hard work on City Council.
The evening drew to an end with the award for Outstanding New Business, which was awarded to Martin and Peggy Beeler, owners of Sunnyside RV. They were recognized for the number of changes and improvements brought to a business that was once known to be "run down."
Many of the award winners were surprised and pleased that they would be selected for the efforts they have put forth in the community. Tears could be seen running down the faces of recipients and cheers could be heard from the crowd gathered at the event. It was a night to honor "Sunnyside's Most Wanted Citizens," who weren't recognized for any crimes, but for the wonderful contributions they have made to making Sunnyside a better community.