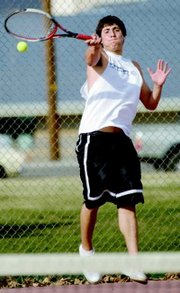 GRANDVIEW - The Grandview boys and girls tennis teams fell to the Wapato Wolves yesterday by identical 4-1 scores.
"It was a tough loss for the boys' team," said Grandview Coach Jaime Morales. "We didn't play all that well, not take anything away from Wapato, whose doubles teams outplayed ours."
In boys No. 1 singles, Grandview's Rodrigo Fajardo defeated Bryan Dosono, 6-1, 6-2. But the second singles match-up between Jake Velasco and Grandview's Edgar Candido swung in Wapato's favor, with Velasco winning 6-4, 4-6, 6-3.
In boys first doubles, the Greyhound team of Gabe Contreras and Roli Solis fell to Wapato's Rogelio Ruiz and Kevin Velasco, 6-0, 6-0. No. 2 doubles players Michael Mingming and Zack Sanchez were victorious over Grandview's Garrett Walker and Jose Madrigal, 6-0, 6-1.
In No. 3 doubles, Grandview's Justin Moreno and Christian Schrank lost to Wapato's James de la Cruz and Patrick Dosono, 6-1, 7-5.
"On the girls' side, we played a lot better (than last time)," Morales said. "The score may not reflect it, but the girls played better."
In girls first doubles, Grandview's Christine Penwell and Rosi Godinez defeated Wapato's Rosa Gonzalez and Bertha Valencia, 6-3, 6-1.
In second doubles, Samantha Wyatt and Tania Valdez fell to Lady Wolves Ernestine Jim and Francisco Torrico, 6-2, 6-2. In third doubles, Lady 'Hounds Haley Lindsley and Erica Medina lost to Wapato's Tiffany Armijo and Nakota Storm, 6-1, 6-1.
In singles play, Grandview's Mariah Coronado fell to Veronica Lopez, 6-0, 6-2. In second singles, Trina Collins lost to Wapato's Danielle Compton.
Morales said he's looking forward to squaring off against Wapato again next month.