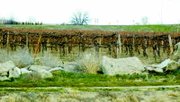 GRANDVIEW - After spending a number of years in Arizona developing land, Granger native Earl Eric Horn and Grandview native Brian Stoneking decided to return to the Lower Yakima Valley.
The pair has a strong loyalty to the valley and felt a need to invest in the community they grew up in.
According to Horn, "It's all about providing opportunities." He said they own Inland Empire Orchards and Inland Empire Builders.
As land investors, they set out to find property for what they envision to be a business plaza, enhancing the community of Grandview. As a result of their search, they discovered a 17-acre parcel on the east edge of the city that would be well-suited for what they have in mind.
After recently acquiring the property, Horn and Stoneking developed its vision for the community and presented it to members of city management.
The Grandview City Council held hearings for the annexation of the property just a few weeks ago, and Horn said the annexation process takes approximately 45 days.
In the meantime, he has been working with Cascade Design in Portland to design the plans for the property, which he hopes will contain a hotel, several wineries and boutique shops.
"We are thinking about calling it Wine Country Plaza," Horn stated.
He said he has several retailers, including a bank, that are interested in the venture. "There will also be eateries such as Rico's Pizzeria, which is our business," he added.
Not wanting to neglect the downtown corridor of Grandview, however, the pair have also invested in property in the business district.
They recently opened a hair salon, known as Cutters, on Division Street. "The salon will be more than just a salon," Horn noted, stating that the business is expanding to include a photographer, wholesale floral and makeup services.
He said the renovation of the building to what appears to be an upscale salon with everyday prices, was something he is proud of.
Horn has immersed himself in the business community. He said he has had success working with the administrators of the city and appreciates those with whom he has worked.
"They are great," he noted, stating that the city administrators have been supportive of his vision, helping him to take the steps necessary for making the business visions become reality.
The business plaza, according to Horn, is meant to enhance the community. He said it will be winery driven, bringing more resources and services to those who live, work and enjoy leisure activities in the valley.
"The venture will also provide more jobs and opportunities...that is what is most important," said Horn, who added he is looking forward to what lies ahead.