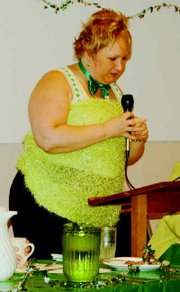 PROSSER - Donna Paris grew up with three fears: the dark, men and dying.
This past Monday, Paris, who is from Oregon, shared with the Lower Valley Christian Women's Club how she was able to overcome those fears.
Comparing life to a raft in choppy waters, Paris said her life was "taking on way too much water" as a youngster when her mother married a man who proved to be abusive.
The first fear she overcame was of dying, she said, after attending a neighborhood Bible study with other children. "I chose to believe what Jesus had done for me," she recalls. "I wasn't afraid of dying. There's no fear in meeting the Lord."
Paris said her fear of men continued until adulthood, when she met her husband Ray. "The Lord brought Ray into my life," she says. "He was gentle, not heavy handed."
Paris says God helped her overcome other obstacles, like having children.
She smiled and shared one conversation with God in which she asked him, "Are you still makin' them?"
Paris recounted how she and Roy eventually were able to adopt first a baby girl and then a baby boy.
It was her children that ultimately helped her conquer a third fear, darkness.
Paris said whenever Ray was traveling on business she would run to her mother's house at night.
But with two children in tow, she knew she needed to be at home with them.
"At first I left every light on at night," she laughed. Gradually, she added, over a period of several weeks she was able to go to bed at night with fewer and fewer lights on until there was just a night light.
That's not to say there weren't future problems for the Paris family.
"Why does everyone think nothing bad will happen to them," she wondered aloud.
Recent obstacles include a back surgery five years ago that left Ray in a wheelchair. He got to the point he could walk with one cane, Paris told the audience, but in January of this year he fell on the first day of vacation and broke his hip.
"He's using two canes now," she smiled.
Paris admitted, too, she doesn't know what possible problems may be posed in the future, but she is certain in her faith.
"I don't know what lies ahead for us," she said. "But I know the Lord is right there with us."
Right there, easing her fears and calming life's sometimes choppy waters.