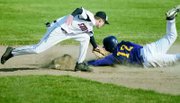 GRANDVIEW - It took nearly an hour of play for the Greyhound boys soccer team to score in its second league match of the season yesterday against East Valley.
It was worth the wait, though, as Grandview banged home three goals in less than 20 minutes to surprise the Red Devils Tuesday in a 3-1 win over the defending State 2A champions.
It was East Valley, though, that drew first blood with a goal in the 49th minute of play.
Both teams struggled in the first half of play, but the Red Devil goal woke Grandview up, said Greyhound Coach Anne Holden.
"The breaking point was when East Valley scored," she said.
It was sophomore Sammy Villa who put Grandview on the scoreboard in the 57th minute with an assist from Oscar Guerrero. It was Villa again eight minutes later with what proved to be the winning goal when he beat the East Valley keeper to the near post thanks to another assist from Guerrero.
Down 2-1, East Valley had its chances to find the back of the net.
"In between our second and third goal, East Valley could have easily tied it up," Holden observed. "The game was up for grabs." She praised the play of keeper Teclo Perez, who turned away a rocket of a shot with a diving one-handed stab. "It was great shot blocking. You either can do that or you can't, and Teclo can."
Just five minutes from the end of regulation Grandview found its insurance score when Bruno Cortez kicked the ball so it spun away from the East Valley keeper and teammate Cesar Barriga headed the ball into the goal.
The victory over East Valley was sweet, given that Grandview last year lost twice to the Red Devils by a single goal.
"This is a big win," Holden said. "East Valley is the defending State champion. They (her players) need to celebrate that."
Grandview (2-0, 2-1) can equal its total CWAC league win total from all of last season with a win at home against Toppenish this coming Thursday.
Holden cautioned that her team needs to be careful, though, noting that several of the CWAC squads are competitive this year. She also noted that her team needs to build on the East Valley win so it doesn't have to come from behind.
"Emotionally it's a great thing. It proves they can," she said of rallying for a win. "But why play from behind when we can play like this all the time? They took risks, which is what you have to do to score. They executed."