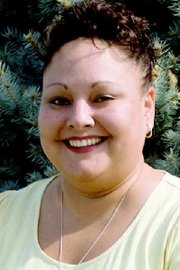 MABTON - She's been "learning the ropes" at Mabton City Hall for the last couple of weeks and will begin her full-time duties next Monday.
Mabton's new city clerk and treasurer, Kitty (Zavala) Curtiss recently began taking on the task of reconciling the city's financial records.
She said she previously worked at Sunnyside's U.S. Bank for more than 10 years, and then, as a paraprofessional with the Granger School District.
" I am a single mom with two children and I had to secure a position that offered me job security and greater financial benefits for my family," Curtiss explained of her career move.
She said her main priority is straightening out the financial records of the city of Mabton, stating that she will also maintain the minutes at City Council meetings.
Curtiss said that Mayor Velva Herrera and another city employee had been working many overtime hours, dedicating themselves to the task of getting the financial records in order. But, because the efforts required so much of their time when they had other duties to perform, Herrera and the Mabton City Council made the decision to hire a full-time city clerk. The city clerk's position allows a full-time commitment to the financial records and frees Herrera to manage her other responsibilities.
She said she is looking forward to the challenges set before her. "I feel confident about my ability to help the city in any way possible," she stated, saying she is aware of public concerns regarding whether or not the city's financial situation can be dealt with properly.
"I want to prove the community members who have doubts wrong," Curtiss continued.
She said she wants to create a positive outlook and image in fulfilling her duties.
Curtiss said she has been buoyed by the community members who have been encouraging, offering words of confidence in her ability to fulfill her role as the Mabton city clerk and treasurer.