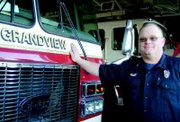 GRANDVIEW - Eric Stanton is the kind of guy that would do just about anything for a friend. Perhaps that's why his peers at the Grandview Fire Department selected him as firefighter of the year.
"It's hard to say just one thing about Eric," says Grandview Fire Chief Pat Mason. "He's the kind of person that could obtain every kind of these awards."
Stanton received the recognition at the fire department's annual banquet this past Saturday.
Despite the fact that he was top responder last year and this year missed that honor by just 13 calls, Stanton says it still surprised him that his peers voted him firefighter of the year.
Fighting fire isn't a new concept for Stanton. Just ask his father, retired Sunnyside Fire Chief Jim Stanton, who, to this day, still volunteers for Yakima County.
Stanton juggles working full-time for Prosser Memorial Hospital's ambulance service as an Emergency Medical Technician with a part-time job at Anderson Equipment.
And for the past five years, he's managed to fit working for Grandview's volunteer fire department into his schedule.
Says Mason, "He definitely sets the example of what it means to be a contributing member of the Grandview Fire Department."
Stanton lives in Grandview with his wife, Zandra, and four children.